Every bride-to-be knows the struggle. You have been day-dreaming via Pinterest and Instagram for months before it was even appropriate to take the matter of your attire seriously. You have excitedly pinned 17 varied styles of visionary veils. But where do you go from here? How do you go about ordering your bridal accessories online? And most importantly, is the vendor legit?
With websites such as Etsy becoming increasingly popular hunting grounds for brides around the world, Alisa from Alisa Brides is on hand to give you her top tips. She has designed wedding veils and accessories for over five years, evolving in-line with the many brides she has helped.
Whether you are purchasing more extravagant designs from Europe or opting for a more budget-friendly piece from China, Alisa's wealth of experience will help you to avoid any potential disasters.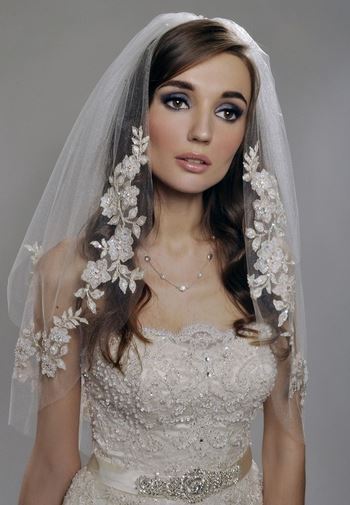 Be Bridal Savvy
A large part of shopping for your bridal attire is being honest with yourself about your budget.  If you can afford a very intricate veil or headpiece and that's the look you love – buy it! You will enjoy the photos much more than you will remember how much you spent. If your budget is more modest and a big splurge would make a dent in more pressing areas of your wedding then it's best to compromise and opt for a more conservative choice with good quality.You will have to use your smarts and banish any expectations of nabbing a beautiful French lace veil for a low price.
Be Cautious
If your search lands you on an Etsy or Ebay link, don't rule it out. Proceed with caution. First consider the price and location. Most highly-recommended artisans selling online are trained and located in the United States and United Kingdom. These veils and bridal headpieces would typically run between $150 and $600. Lower priced options shipped from countries such as China are not recommended if you are looking for quality.
If your budget is small, choose to wear a plain cut edge veil. This is an elegant and timeless choice and you will have a higher quality material and design. I make these options using American made fine illusion which is light, soft, and drapes well. I cut it precisely, with no edges, into a researched contemporary shape and finally sew it neatly onto a high quality comb.
Again, if you were purchasing a fifteen dollar version from Taiwan, it will be delivered in flimsy packaging with stiff, rough tulle, glued onto a chunky plastic comb, jagged, and sticking straight out. Go the extra mile and spend a little bit extra to avoid this potential disaster.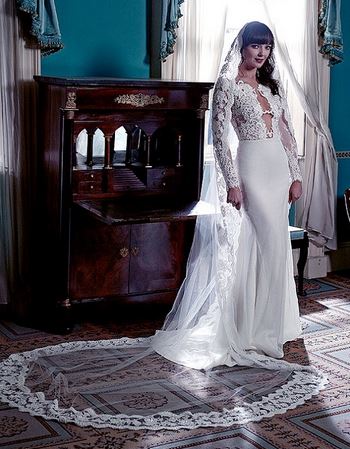 Reviews Matter
Look for a designer with at least 200 five star reviews. It's important to read through a few pages of reviews, especially if photos are posted. Listen to red flags such as product not resembling photos, any seams coming undone or beading falling off. A cheaper Chinese lace can be lovely if trimmed and sewn on carefully. But again by reading product reviews you will be able to judge from images if there are problems with the workmanship. Look for lace that is neatly cut around all the nooks and crannies. If photos look too good to be true, they are more than likely not legitimate. An honest overseas seamstress will have photos on a mannequin which will be photographed closely.
What To Look Out For: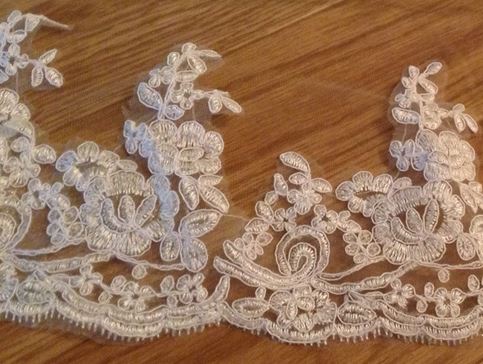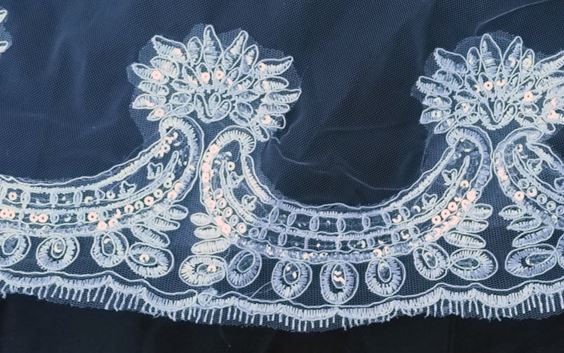 Notice how the above lace is surrounded by nylon backing – both on top of the lace and on the bottom edging of the veil. You can also see the opaque white seams between the leaf and flower motifs.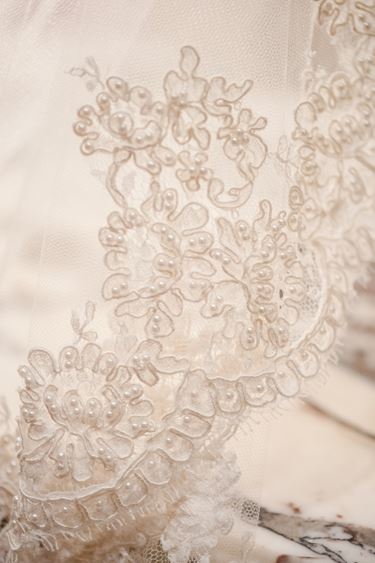 While, this is a close-up of one of my Jacqueline veils. Every tangent is precisely cut out, and hand sewn with clear thread for total invisibility.
Photograph Red Flags
Blurry photos where you can't see the lace
Different laces shown in various photos of the same listing
Professional & magazine quality photos
Images of celebrities
Different models and backgrounds in every photo
The above indicates that the photos were stolen and the maker does not have the same lace, skills or materials to replicate the design.
Choose Bespoke Designs
I recommend choosing a professional's own design over asking them to knock off a more expensive veil. This means you will be wearing a design that is one-of-a-kind for your special day. Requesting a unique design will mean you know exactly what to expect and the materials will never be a surprise. Adding a quirky touch such as customizing the length/color shouldn't be a problem for anyone listed as a wedding supplier on Etsy.
Image Credits: Alisa Brides; Etsy; Alisa Brides.