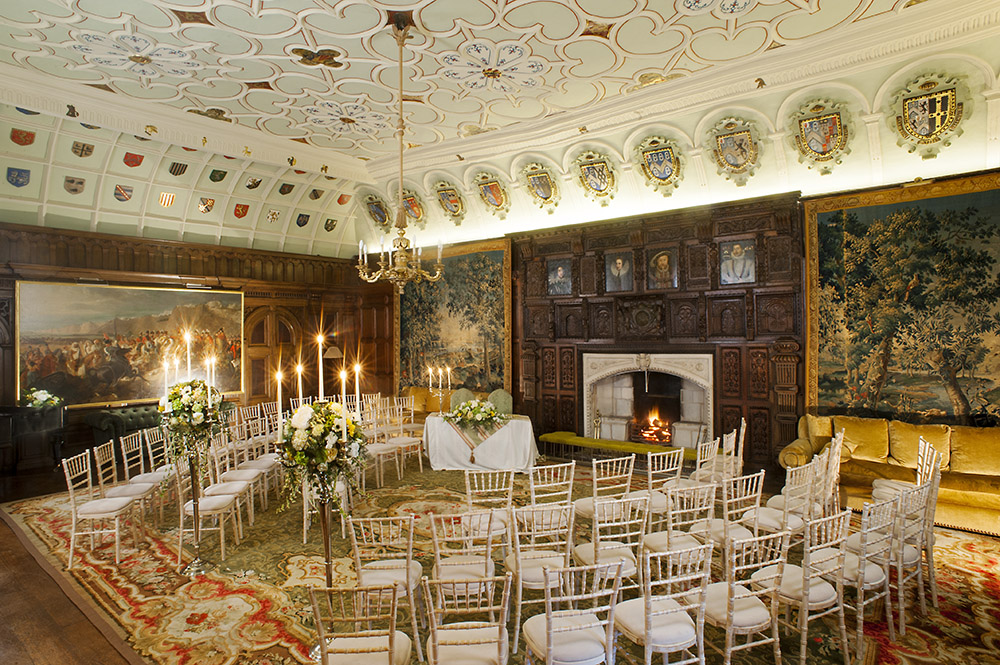 Combermere Abbey is thrilled to announce that from January 2016, during the months of January and February, couples may hold their wedding ceremony in 'The Library'; a stunningly ornate room steeped within over 800 years of history, on the first floor of the Abbey itself.
Created for Abbots, visited by Royalty and aristocrats, and enjoyed by many, the room was once was the 'Abbott's Lodge' dating back to 1133. This was his principal room, where important guests would be received and entertained – it was the heart of the Abbey.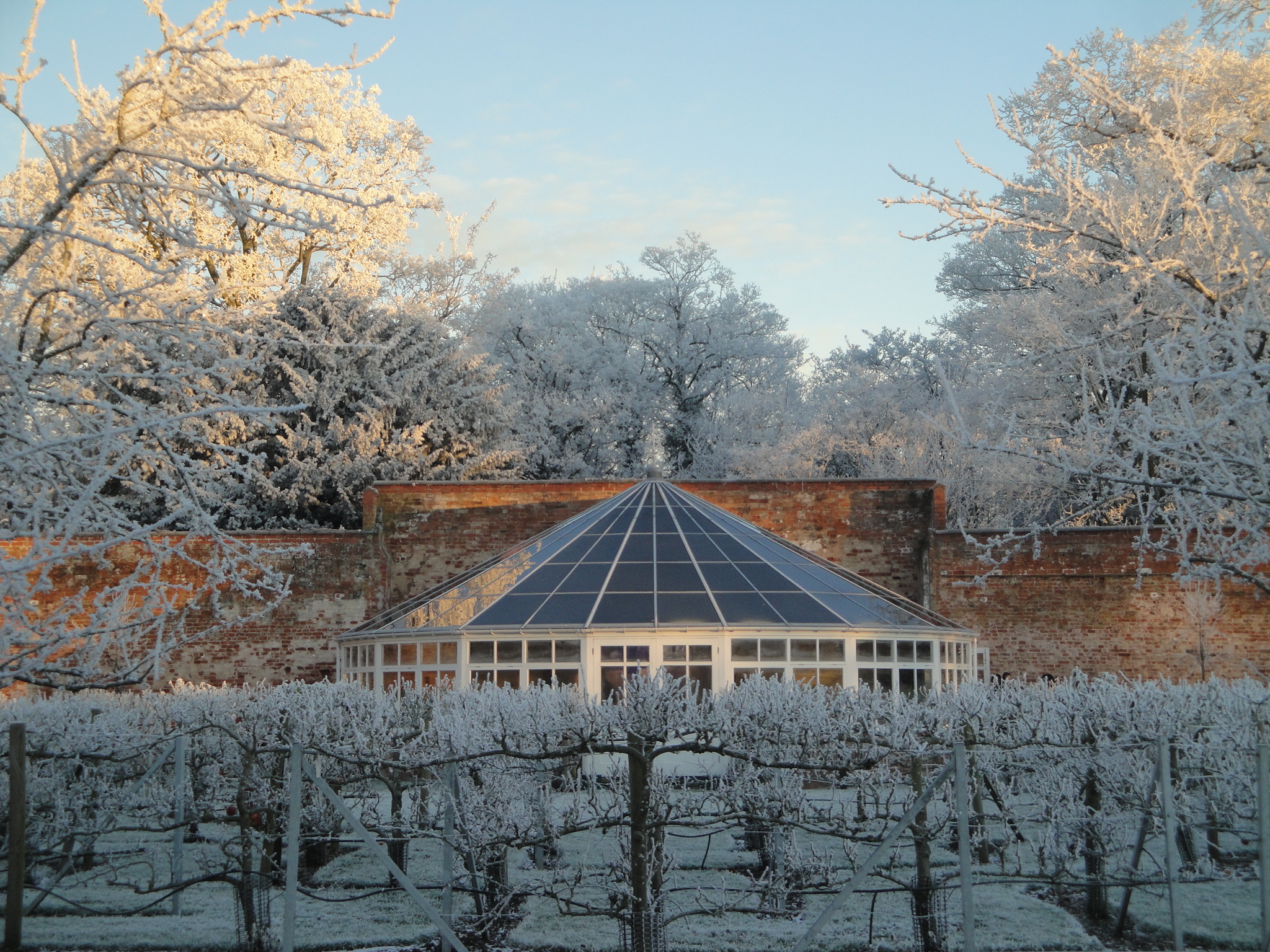 The Library has recently undergone a significant programme of specialist restoration, part of a wider multi-million pound investment to save the Abbey's North Wing.
From Tudor times, through to the Regency period, the room was a Great Hall (1562 – 1820) and at this time the 1st Viscount of Combermere, Sir Stapleton Cotton, enhanced the splendor of this magnificent room, adding decorative heraldic shields, depicting his ancestry and their family ties through marriage.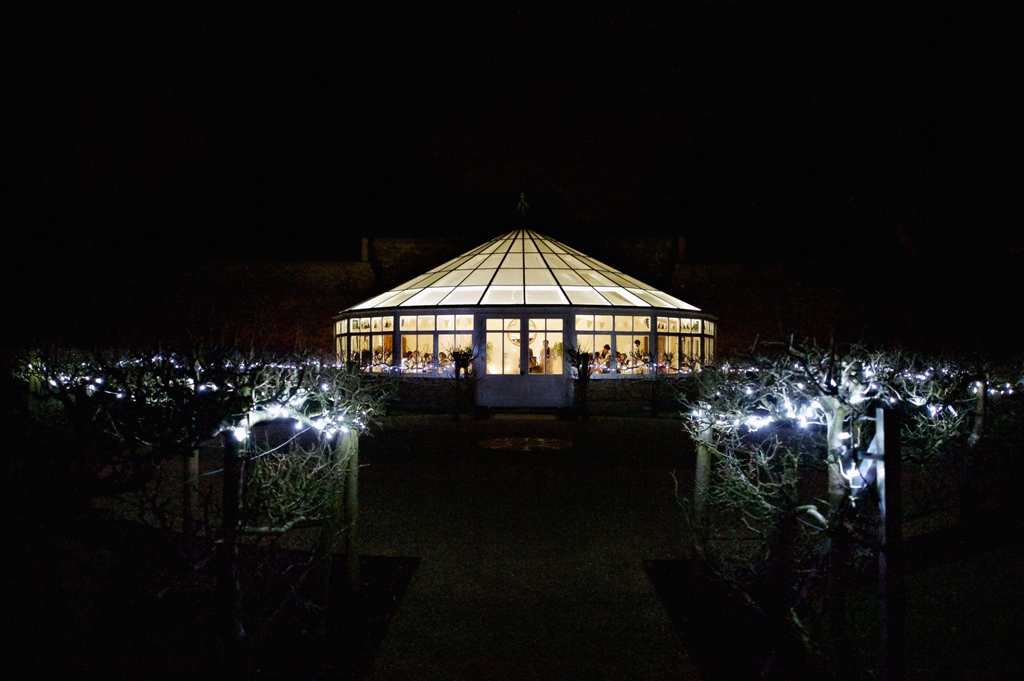 Befitting that couples will now stand in the same room, taking their own marriage vows, surrounded by reference to such unions. This news heralds a truly unique opportunity for couples hosting midwinter ceremonies for up to 60 guests. They have the chance to feel like Royalty on their wedding day, enjoying the grandeur of The Library, with its ornate plasterwork detailing and huge marble fireplace. A log fire may be lit, if required, conjuring up a magnificent, toasty ambience on a winter wedding day.
After the ceremony, the party moves from the Abbey to the estate's enchanting Victorian Walled Gardens. Here, The Glasshouse, another unique space with its 180 degree views overlooking the winter landscape and the architecture of the espaliered fruit tree maze will play host to the wedding reception. The celebrations, feasting and merriment will continue, long after dusk turns to night.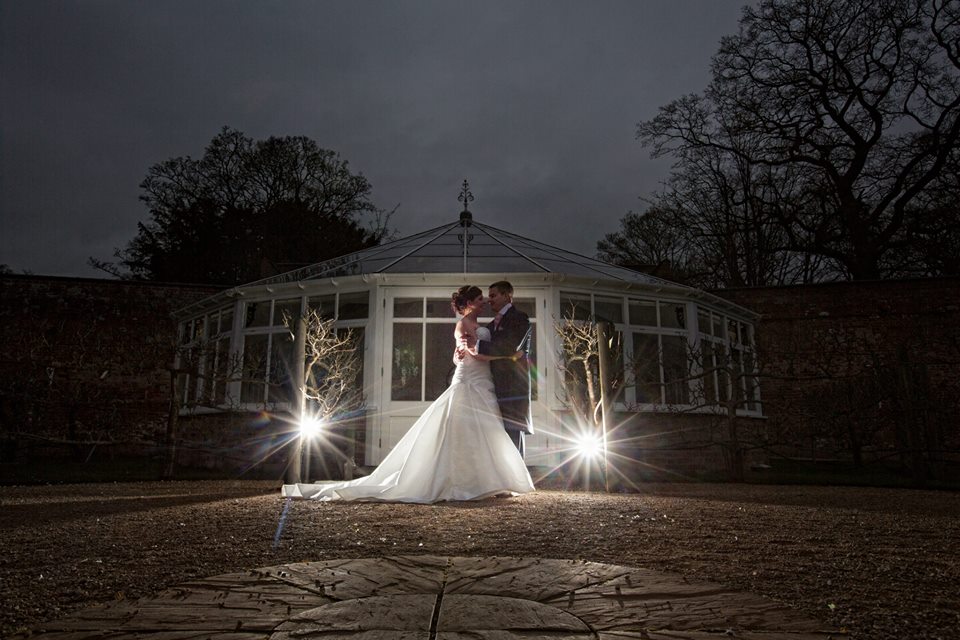 Another nod to the Abbey's fascinating history is the recent acquisition of a 1927 Crossley Classic motorcar. The founder of the Crossley Motor Company, Sir Kenneth Crossley, was once the owner of Combermere Abbey. His great granddaughter is now the current owner of the estate. The smart navy blue car is available to use around the estate on the couple's wedding day.
It is worth noting that each and every wedding that takes place at Combermere is to be enjoyed by your family and friends alone, a unique, beautiful and romantic space ~ a day where dreams do come true and are yours exclusively to enjoy.
Send an enquiry now to the stunning Combermere Abbey for your fairy tale wedding day!  Comberemere Abbey will be hosting a Library open day on Sunday 28th June for prospective couples. This will be by appointment only between the hours of 11am & 4pm. Telephone 44 (0)1948 871 662 for more information.