We have moved on to the final frontier of wedding planning. Over the last few years as we become more active than ever on social media, an app has been invented for anything you could possibly imagine. Organising and planning each step of your special day is stressful enough, not to mention the added confusion of deciding what wedding apps and tools will actually be useful. Look no further than these five smartphone saviours to help you banish stress and ease the burden.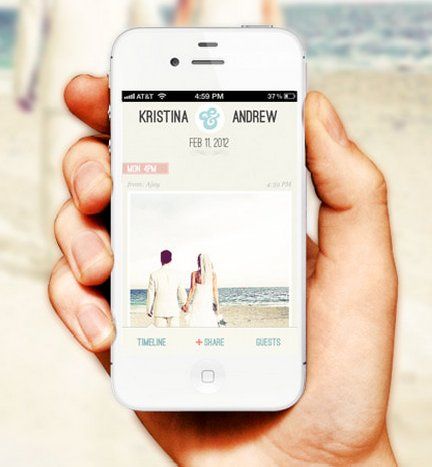 Pinterest
Where would we be without Pinterest, eh? The holy grail when it comes to wedding inspiration, it has turned many brides into hunter gatherer mode once a ring was popped on their finger. An online scrapbook where you can collect and pin all the wedding delights and trends which your heart desires. Follow us on Pinterest here www.pinterest.com/weddingdates for all the latest style and lots of pretty pictures. Take heed to our warning though, you will become seriously addicted.
Wedivite
Track your guests better than Big Brother with Wedivite. Keep your nearest and dearest engaged with all the latest updates on your special day. Send your invites via this digital creation which allows guests to RSVP, suggest songs, send you wedding gifts and get directions with a simple click. Your precious time will be managed efficiently and your invitations will also be eco-friendly by cutting out the wasteful process of paper and stamps. And did we mention it's free too? Score!
Top Table Planner
You will be thanking your lucky stars with this nifty planner. It will save countless headaches and arguments not only in the run-up to your big day but also during the banquet meal itself. Planning your seating arrangements to military precision will help avoid conflict between family and friends who may not be on friendly terms. This app can be used anywhere from your PC to your smartphone. Allowing you to choose table types and names, seat numbers, move guests and track your RSVPS. With the help of Top Table Planner, you will have a fully functional wedding reception in no time.
Wedding Songs That Tell Your Love Story
Technically not an app, but this tool might just help you from tearing your hair out with stress. Not every couple has their own special song, so choosing your wedding music can be a daunting task. We totally heart this helpful playlist created by the experts at Wedding Paper Divas. From tossing the bouquet to walking up the aisle, you will be covered for every genre. You will be left wondering where this 900 strong database has been your whole life! Our top pick for a bespoke wedding soundtrack, this is a DIY bride's dream come true.
Appy Couple
The one that has it all. A complete package, you and your other half will have your very own personal wedding website with synced app. Manage your guest list with ease as real time alerts are sent to guests as a reminder to RSVP. On the day, your friends and family can use a point and shoot mode on their app to capture the most intimate moments of the day. These can be edited and enhanced before sharing snaps of the Appy Couple on social media.
Image Credits Via: Huffington Post