Always a grand finale to any celebration, wedding fireworks add a that WOW factor and create totally magical moments that you'll cherish forever.
But, before you rush out and spend your hard-earned bucks on a display of entertainment for your summer or NYE wedding, there's a few things you should check out first. We caught up with experts Firework Crazy, who gave the low-down on everything you need to consider…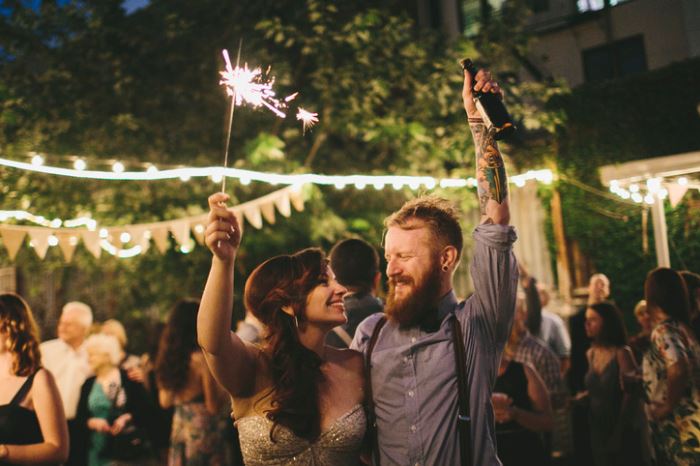 Ask Permission From Your Venue
It seems daft and pretty obvious, but always ask your venues permission first. You'd be surprised the amount of couples who purchase fireworks, only to be told by their venue that they can't use them. It's also a good idea to check if you'll be able to set the fireworks off yourself or if you'll need to hire a display company due to health and safety regulations.
If a venue tries to insist on your display being managed by them, ensure they have someone who is a qualified firer as per the British Pyrotechnists Association.
Check The Local Council's Noise Restriction Policy
In the UK, fireworks are generally allowed to be set off up to 11pm, apart from Bonfire Night and New Year's Eve.
Certain areas – usually venues close to residential areas, but sometimes country hotels with guests who are not part of the wedding party, may have policies. These are in the form of localised requests/appeals for consideration rather than anything legally binding. It's always best to check with your venue and local authority before booking.
Low noise fireworks are an excellent option if certain restrictions present themselves. The quality remains the same, but there's no whistling and quieter bangs – winning!
Plan B For Bad Weather
Bad weather usually doesn't make too much difference when it comes to fireworks displays. But, if it's very windy, you should take extra care to ensure fireworks are secured in the ground. If possible use a solid windbreaker to reduce their exposure to the wind.
Another precaution worth taking is to ensure fireworks won't go off directly above the audience's head, which may mean moving the viewing area so the wind is coming from behind the audience, rather than towards them. However, you may need to consider how this affects the designated fall out area. And, if it's raining, aim to keep the fireworks as dry as possible before setting them off.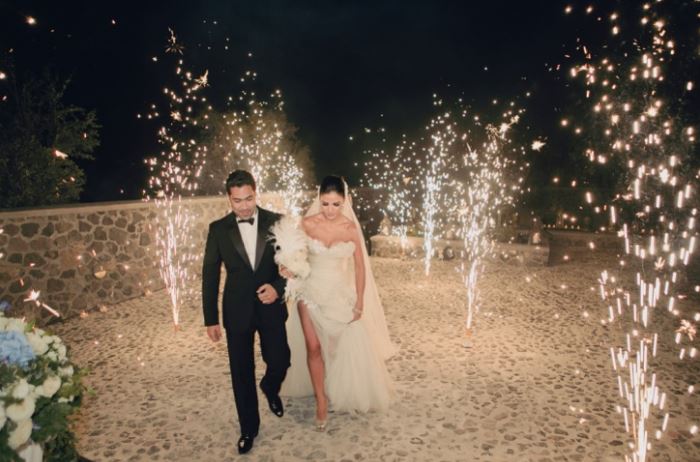 Practice Proper Safety Measures For DIY Fireworks
Early preparation is important if you're planning a DIY fireworks display. Nominate one person to be in charge of the fireworks and lighting on the night. As it's your wedding and there's likely to be alcohol around, you need to make sure it's someone who is responsible and sober.
A remote ignition kit is also a good idea in this case, eliminating the possibility of being too close when the display is set off.
Spend time at your venue ahead of the big day to gauge the size of the firing site and read all the instructions carefully. Your venue should help ensure your guests are a safe distance away on the night, 50 metres away is an ideal vantage point.
Safety Rules:
Never smoke when handling fireworks

Unpack the fireworks in a safe environment, away from open fires and flammable material

Make sure fireworks are all separated from the packing material

When outside, the box should be covered with a tarpaulin or other spark proof material to avoid igniting its whole contents

When firing a display always wear protective overalls, goggles, hat and gloves. Beware of hot effects falling into gaping pockets ie. wellington boots

Always light fireworks with a portfire attached to a stick held at arms length

Never walk or lean across the top of any firework. Treat them as you would a loaded gun muzzle

Always soak unused fireworks in water for 24 hours before disposal
For more information on purchasing fireworks go to www.fireworkscrazy.co.uk or to hire a display for your wedding visit www.weddingfireworks.co.uk
Image Credits: Readyluck Photography via The Knot; Anna Roussos via Belle The Magazine.