Hands up who used to swap notes with their girl squad back in the day and store them safely in a memory box? Those were the days!
So, it won't come as a surprise to you that we LOVE guestbooks – especially when your friends and family write their favourite memory of you, how you met or just general well wishes. In years to come, if you're having a bad day, a look back on your guestbook will cheer you up in no time. FACT.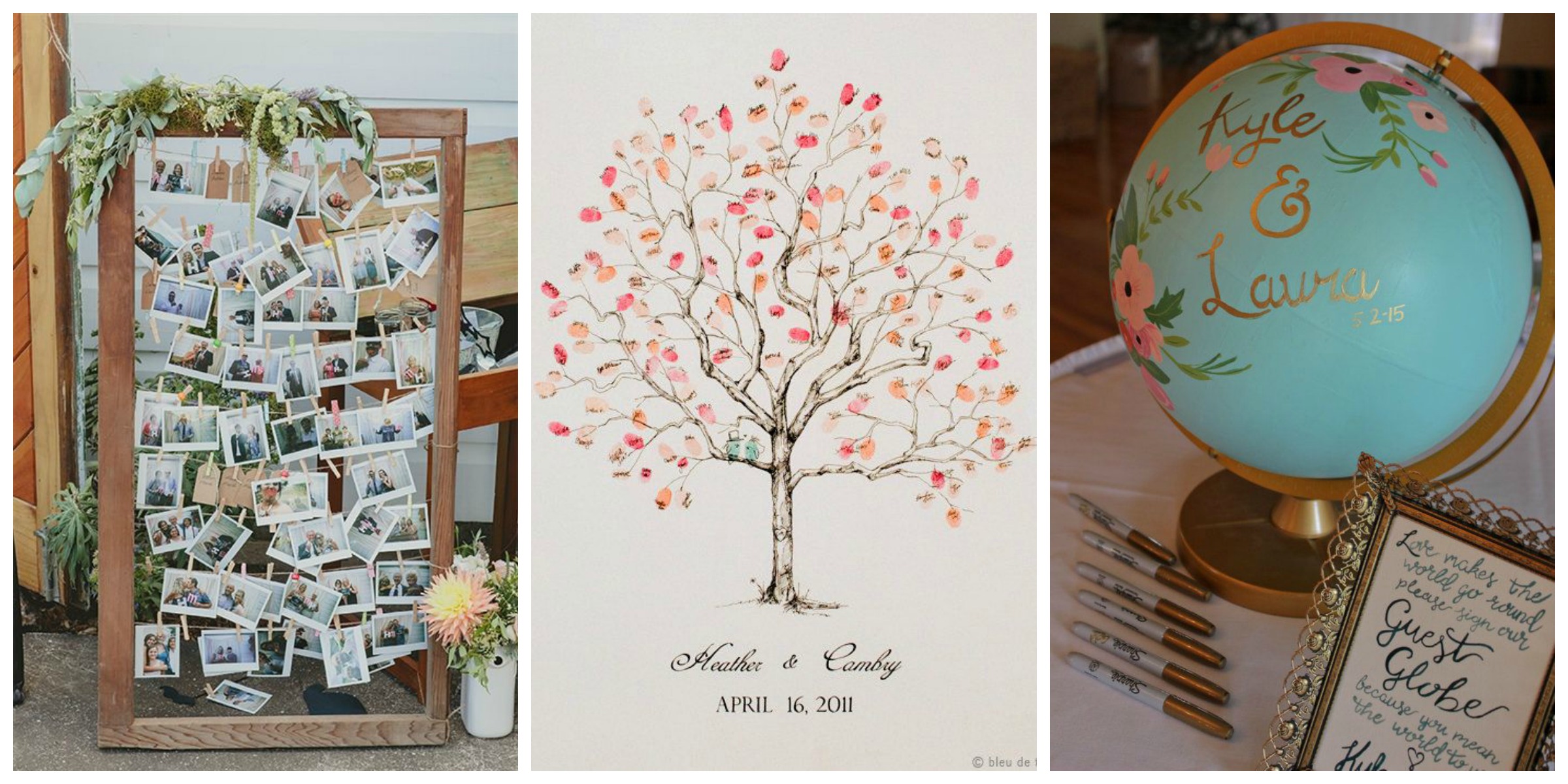 Post A Polaroid
Retro and hip, set up a station including a polaroid camera, pegs and some sharpies. Invite guests to take some instant selfies with a personal note. Get them to hang these on string placed above the table. This makes a great backdrop for cutting your cake later in the evening.
Where to buy Instax Fujifilm Instant Camera: www.argos.co.uk
Canvas Wall Art
We saw this done brilliantly on one of our Real Wedding blogs at The Culloden Estate & Spa. The bride and groom later hung this as art in their new home.
Where to buy canvas and sharpies: www.artdiscount.co.uk
Fingerprint Tree
Encourage your guests to stamp their fingerprint on to a print drawing of a large tree with blossoming branches. Match the ink to your colour scheme or go for bright pops of colour for something fun. Don't forget some hand wipes as it will get a little messy!
Where to buy fingerprint trees: Bleu de Toi on Etsy
Globe Trotter
If you are a dreamer who is constantly in a daze of wanderlust, this is perfect for you. Get your nearest and dearest to sign their favourite vacation spot or place of birth. After the wedding, drill small holes around your vintage globe and place a light inside – now you have your very own romantic night light!
Where to buy guestbook globe: Blush Design Co on Etsy
Video Booth
Save your guest book recording until after the honeymoon and organise a cinema date night to watch it. We bet their will be some pretty funny stories on there after the drinks started to flow at your reception.
Image Credits: Etsy.