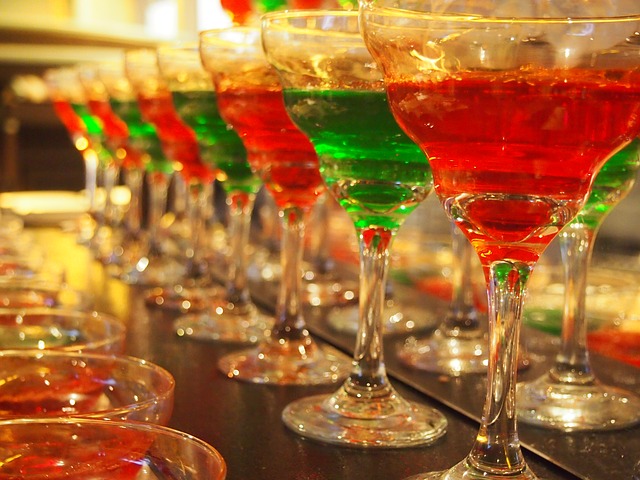 When you are planning the wedding reception stocking up the wedding bar sufficiently with suitable drinks is an important task. This will require your attention early on in the planning process. It's tricky to know how much you will need to keep all guests happy.
There are few things that you should consider when deciding on the type of bar. The day of the week can influence amount your guests drink. If you are having a wedding on Saturday it's likely people will consume a few tipples more, as it's weekend and everyone can (hopefully) sleep in the next morning. Consider who your family and guests are. If you are aware that the groom's family enjoy wine, then ensure you have enough to keep everyone happy with their drink of choice to please your guests. The reception type also depends on the wedding theme. If you want to ensure a classy, elegant affair, then you should probably avoid an open bar. If you are having a fun, festival theme and would like to keep it casual, it would be more appropriate to have open or limited bar. 
Bar Options
Signature Cocktail Bar
A signature cocktail can add a perfect, personal touch to your wedding reception. Cocktails come in all different colors so they can be matched with your wedding colour palette. Signature cocktails are becoming more popular in modern weddings. The bride and groom can pick their own favorite cocktail each to go along with the reception and their personal taste. Having a signature cocktail can add a nice surprise spin for your guests and your reception.
Open Bar
An open bar is usually a costly option for your reception. The bride and groom can prepay to enjoy unlimited drinks or just to set it to a limit. Guests will have a wide variety of drinks to pick from and they don't have to worry about bringing enough cash. This option works well if your wedding ceremony is small and with your family and closest friends, otherwise it would be very costly.
Wine and Beer
Some venues might not be licensed to serve all drinks, such as spirits. In that case you can stick to wine and beer. If you are having a wedding ceremony in a fully licensed venue it might not be a bad idea to provide wine, beer and champagne and let the guests buy spirits and cocktails on their own accord at the bar. This is a budget balanced option.
Slowly counting down the days to your wedding, but you're missing the fun of your hen party? Find fun, alternative ideas and inspiration on Polestars.