As with every part of your wedding, there are many layers to the wedding cake planning process.  There are questions you want to ask and many decisions to be made. You might be looking for wedding cake inspiration, need help finding a wedding cake specialist or figuring the budget and portion sizes. We've gathered everything you need to know to minimize your wedding cake planning stress and get the basics right. 
The wedding cake is one of the foremost attractions of the wedding day that everyone always anticipates, besides the bride. Traditionally, the wedding cake symbolises fertility, prosperity and is said to bring the newlyweds good luck in their fortune and marriage. In Ancient Rome, bread would be broken over the bride's head to ensure good luck. This was done to ensure good fortune, fertility and overall a blessed marriage.
However, today, wedding cakes are more of a centrepiece to the occasion, complementing the wedding's overall aesthetic and a tasty treat for guests.
Wedding Cake Research
Take time to consider what you both like. The first thing to decide on is the flavour or flavours.  This will help narrow down your choices in a practical way and make the design process faster because there are so many styles to choose from.
With regard to the design of your cake, Pinterest is a great place to find inspiration on unique or trendy concepts. Early in 2021, we interviewed 1000 couples for our UK Wedding Industry Report, and they confirmed that Pinterest is the biggest source of inspiration.
Create your own board, and save your ideas there or, get inspired from our "We heart Cake" Pinterest board 
If Pinterest is not your thing, then simply save and print photos from your web search or get out your scissors and cut out pictures from magazines of cakes that inspire you.  You can bring them when you meet your wedding cake specialist.
How much Wedding Cake?
If you're at the stage where you're ordering your cake, it's likely that you have as good as finalised your guest list and know your numbers. It's helpful to have a budget in mind at the beginning of the design process with your Cake Specialist and if you've done your research you won't feel pressured into ordering a cake that is beyond your budget. 
Portions
At this stage, you should have a rough idea of the number of guests attending the wedding. The number of servings you need can affect the size and ultimately increase the cost of the design process. Your wedding cake maker will be able to offer advice on approximately how much cake you'll need per person, but in the meantime, here's a rough idea of serving sizes.
Two-tier will feed between 30-50 guests

Three-tier will feed between 50-100 guests

Four-tier will feed between 100-150 guests
Naturally, the more elaborate the cake design is, the more expensive it becomes. Extra tiers, handmade sugar flowers, and fancy metallic finishes or cake toppers will all add to the price. If you are trying to minimize expenses, consider contacting a florist to decorate your cake with fresh flowers or fruits. This is often less expensive, but equally classic and as beautiful. However, bear in mind that things like icing and the weight of each tier will have a bearing on this.
Wedding Cake Makers
In the 2021 UK Wedding Industry Report mentioned earlier, we also found out that Couples are more likely to source their suppliers through personal recommendation. Ask your friends and family and make a list of potential cake bakers. Or search for wedding cake suppliers in your region. Different vendors have different price ranges. It all comes down to the quality of ingredients, skill and technique involved.
Consider whether you need your chosen cake maker to accommodate specific dietary requirements, such as gluten-free, dairy-free or vegan. Often, cake suppliers specialise in their own specific style, so it's essential to do your research. It's fun to do a cake tasting, testing all the different flavours and look through the maker's portfolio.
Flavours
If you can't decide on what flavour to go for, you can always hedge your bets and go for a variety. This works like a treat with a tiered cake.   Traditionally, the wedding cake has three layers but there are no rules.. From single-tier all the way up to staggering heights, the only limit is your budget. Tiers can be stacked, freestanding or on pillars between each layer to add extra height.
Here are some of the classic flavours to drool over
Fruit Cake:
The most traditional of all with dried fruit – the big advantage is that this type of cake will keep for months in an airtight container allowing you to keep some for guests that couldn't make your big day.  There is a tradition that the top layer of cake is kept for either your first year anniversary or your baby's christening.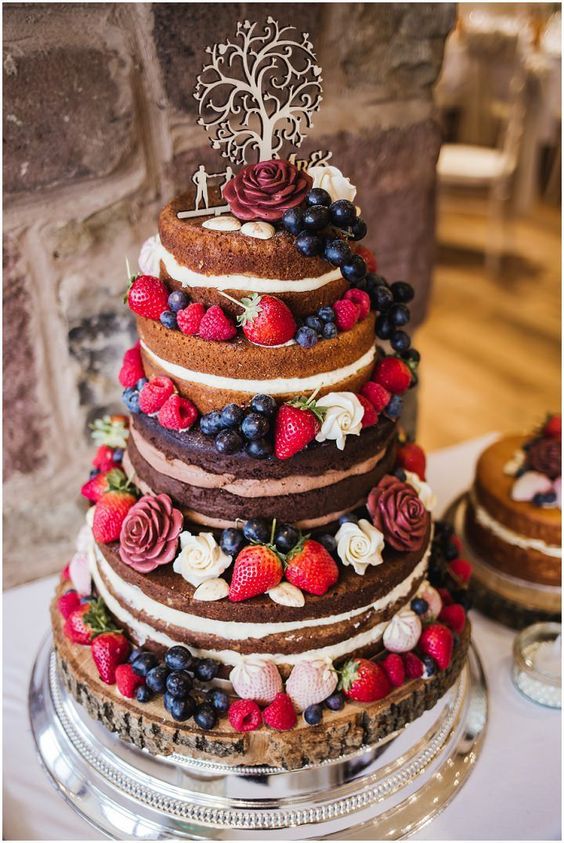 Image via Veronique Eimer on Pinterest
Vanilla sponge: 
A classic wedding cake flavour complimented with strawberry or raspberry preserve and vanilla buttercream.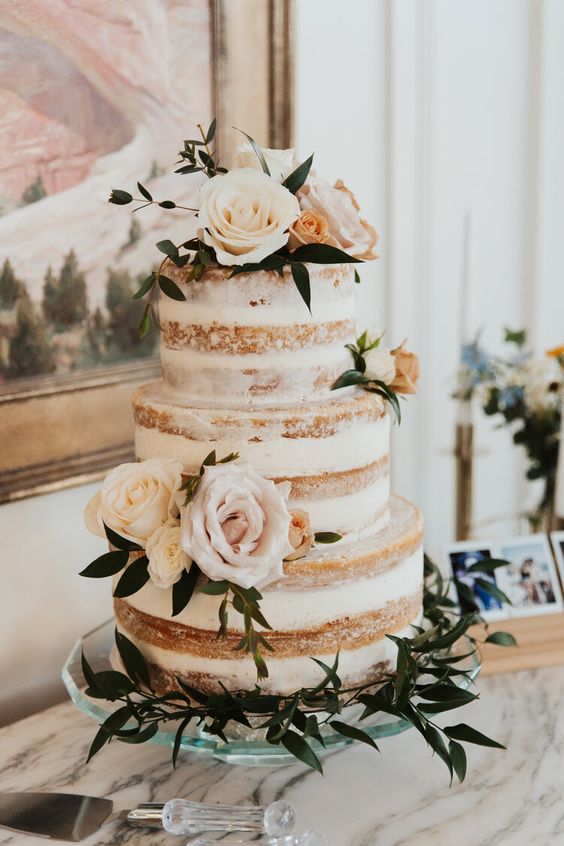 Image via Natalie Michelle on Pinterest
Lemon sponge:
Ideal for summer weddings This light cake is made with fresh lemons and filled with lemon curd buttercream.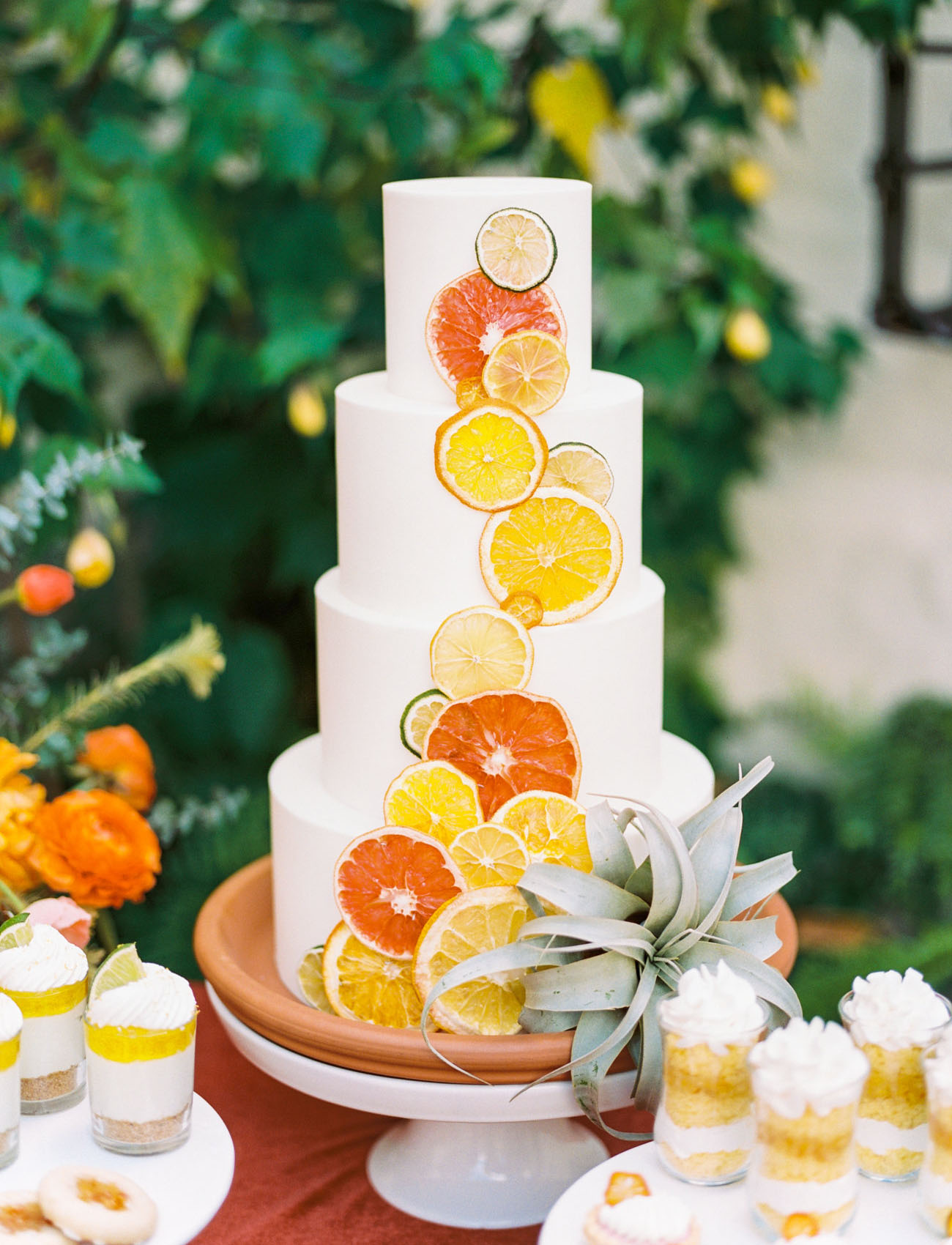 Image by Olivia Richards Photography
Black Forest:
A sumptuous cake of dark chocolate, Morello cherries, and kirsch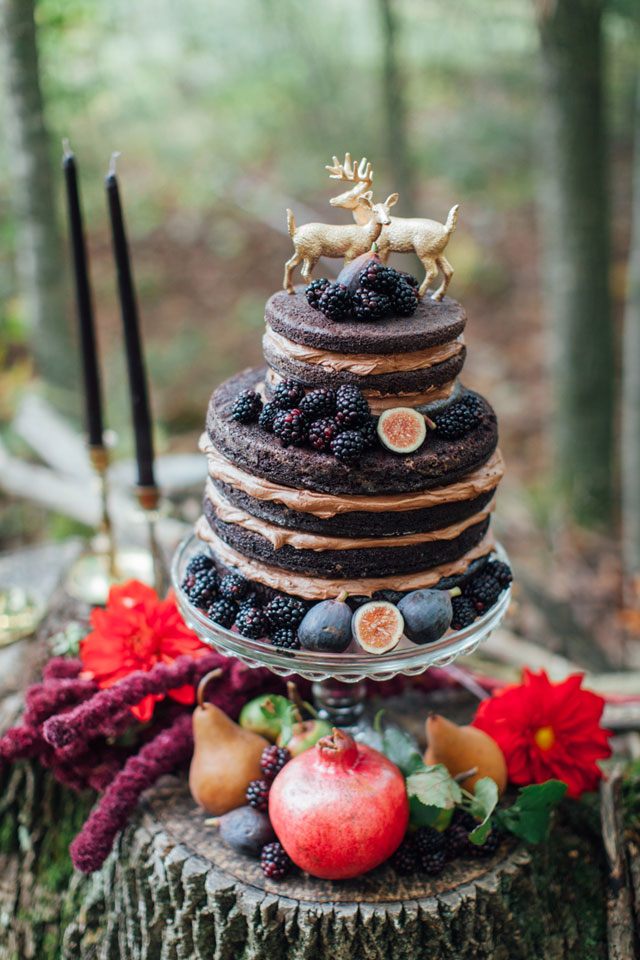 Image by Artemis Photography via Artfullywed
Red Velvet:
A red coloured vanilla & chocolate cake, layered with buttercream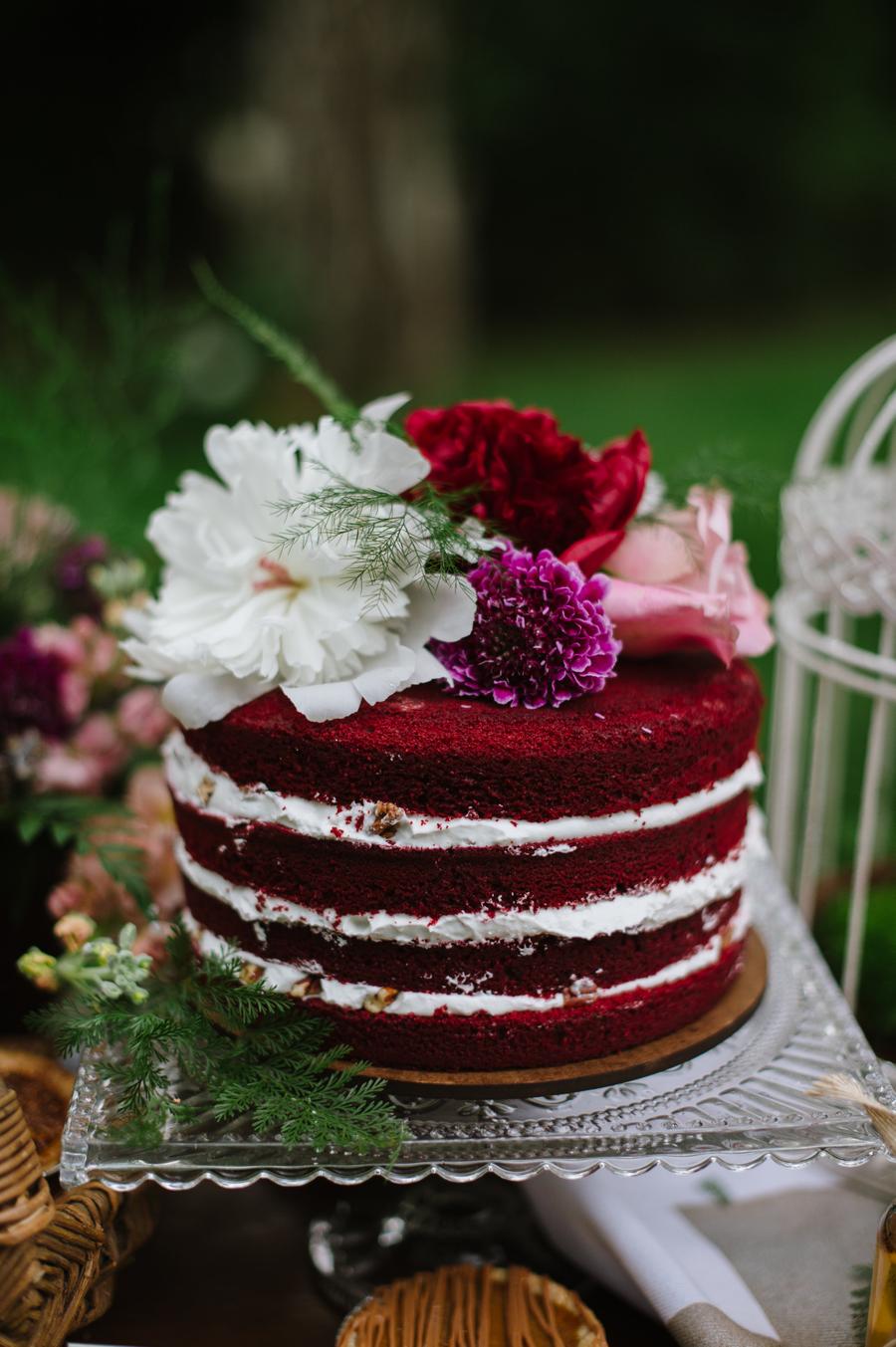 Image by  Natalie Franke Photography via Style Me Pretty
Chocolate Fudge:
Exactly as it sounds – a crowd pleaser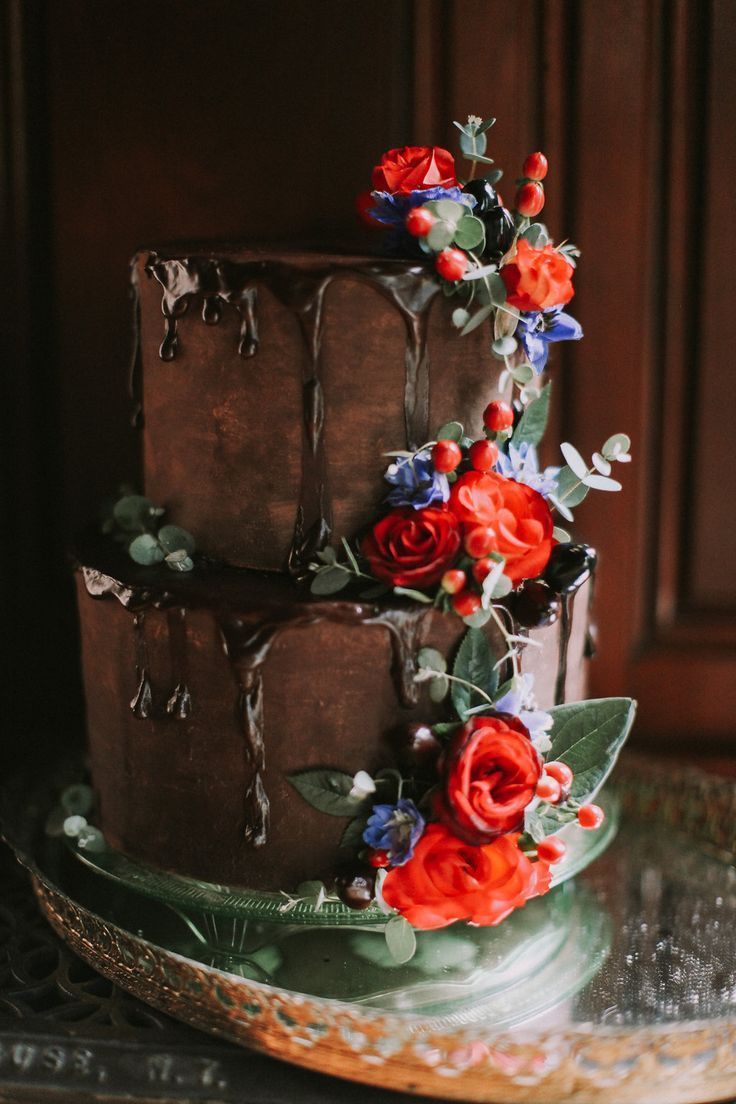 Image by Whitney Nichols
Carrot Cake
A moist carrot cake filled with delicious buttercream. Pecan nuts give this cake an added crunch, however, please highlight to your guests if nuts are used.
Image by Meredith Carlson Photography via Style Me Pretty
There you have it, the basics. We've talked about the importance of planning, and doing some thinking from the get go.  It can be a fun journey if you give your wedding cake some thought from the start.  We haven't even touched on icing, decorating and alternatives to traditional cake decorating and styles. We'll cover that in another post. In the meantime, we hope that this sets you on your way of how to approach this task on your wedding list.