Wedding favours are the perfect way to thank your guests for helping to celebrate your special day. Homemade wedding favours are becoming much more popular and are a lovely way to give a personal touch to the wedding.
One of our favourite D.I.Y wedding favours is using homemade soap! It's a cool, creative project that you can tailor and personalise to your taste. Soap is also a practical gift, because we all need to wash our hands!
Here are two glorious recipes to make some Grapefruit Lavender Soap and Coconut Mint Soap via A House in the Hills blog.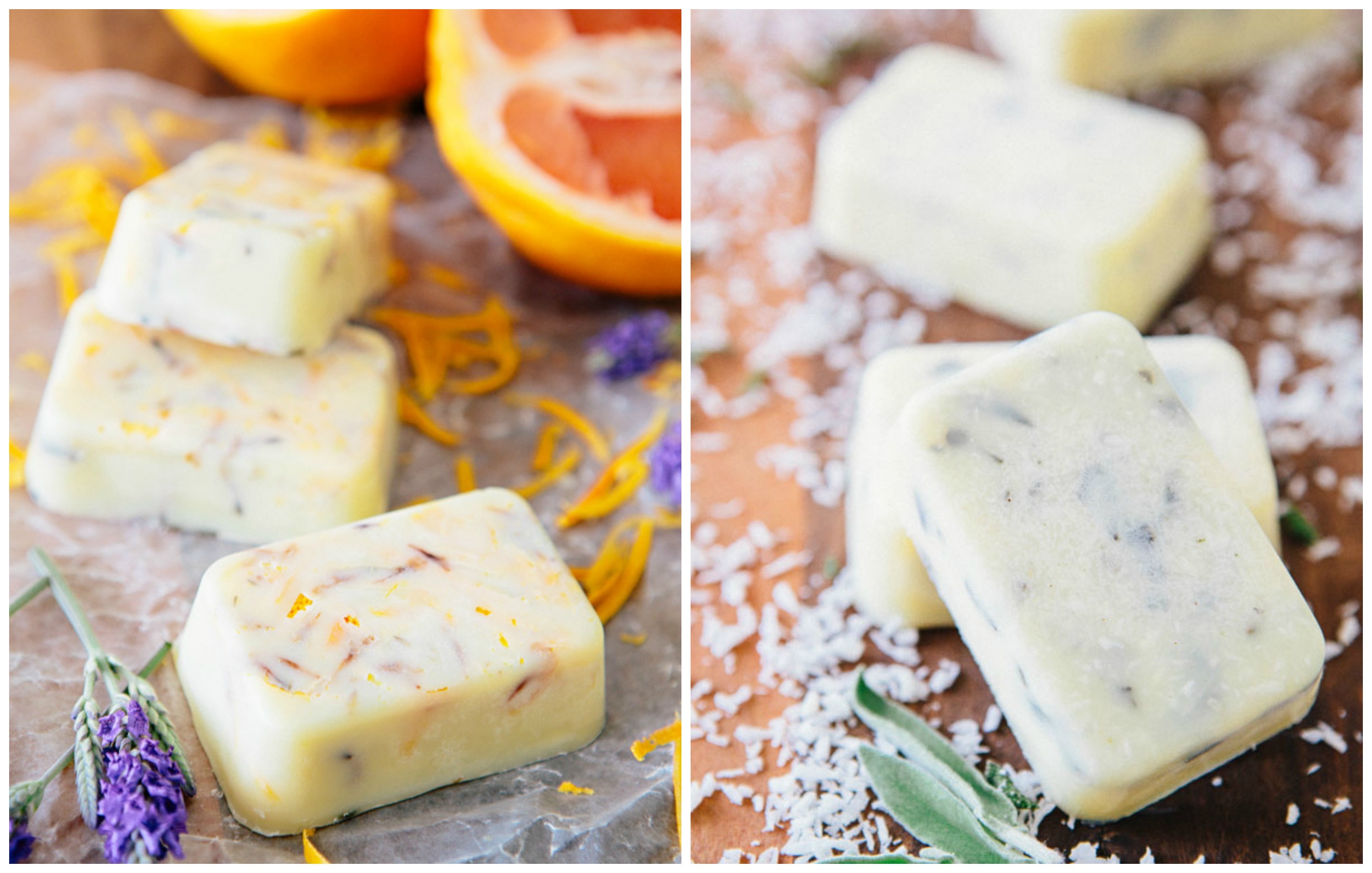 Grapefruit Lavender Soap & Coconut Mint Soap
Yields 7-8 bars of soap per 1 lb bag of shea butter
Ingredients + Supplies
Zest of 1 grapefruit
1-2 tablespoons fresh lavender
3 tablespoons coconut flakes
8-10 chopped fresh sage leaves
15-20 drops peppermint essential oil
15-20 drops lavender essential oil
1lb bag shea butter
Soap mold
Method for Soap Base
– Rinse soap molds to ensure they are free of any residue.  Let dry and place on baking sheet to make transporting them later easier.
– Check to make sure baking sheet fits in freezer, choose a smaller sheet if it doesn't!
– Melt soap base according to package instructions (we used the shea butter listed above).
– For stove top melting use a double boiler system by filling a large pot with water and putting a smaller pot inside of it.
– Once water has boiled, place shea butter in smaller pot and turn heat to low/simmer.  Cover and heat.
– Stir every few minutes until shea butter is completely melted.
– While soap is melting gather grapefruit zest, lavender, chopped sage, coconut flakes, peppermint oil and lavender oil.
Method for Grapefruit + Lavender
– Once soap base has melted let sit for a couple of minutes.
– Pour out 1 cup of soap base into measuring cup.
– Add grapefruit zest, lavender and 15-20 drops of lavender essential oil to measuring cup, stirring frequently so ingredients don't settle to the bottom.
– Pour into 3-4 soap molds.
– Use spatula to ensure even distribution of lavender and grapefruit zest.
– Rinse measuring cup.
Method for Coconut + Mint
– Pour remaining soap base into measuring cup and add coconut flakes, chopped sage leaves, and 15-20 drops of peppermint oil stirring frequently.
– Pour into 3-4 soap molds.
– Use spatula to ensure even distribution of coconut flakes and sage leaves.
– Let sit for 1 hour then place in freezer for 1 hour.
-Soaps should pop out of mold easily with use of a knife to cut around edges.
Notes
– Any heat resistant container can function as a soap mold.
– If using baking dish/tupperware as a soap mold you may need to spray with cooking oil or use a liner to ensure soap doesn't stick to pan.
– Soap base is going to be hot and may burn, handle carefully!
– Coconut flakes and grapefruit zest will act as exfoliants.  If your prefer a smoother soap chop flakes and zest into smaller pieces.
Fabulous! We can't wait to get started on this project, thanks again to A House in the Hills for this cool recipe.