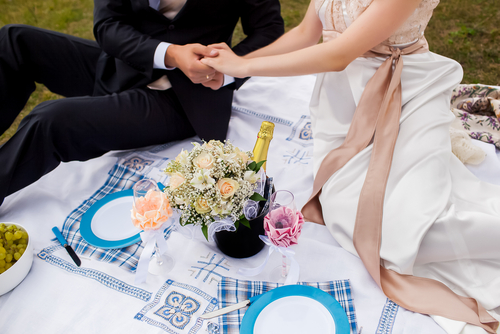 Planning a wedding can often seem like the most stressful event you'll ever take part in. Some couples spend years planning their special day, so it makes sense that you want everything to be absolutely perfect. That shouldn't mean breaking the bank either; there are lots of useful tips out there to ensure that you don't over-spend.
Most of your day will be spent at the wedding reception. Whether you're eating, toasting, or dancing – it's important that the reception is both memorable and enjoyable.
Here are 5 amazing wedding reception ideas that'll give you and your guests a wonderful day.
Have an outdoor picnic
June and July are the most popular times of the year for people to say 'I do' and tie the knot. That's why it's a good idea to take advantage of the summer weather and plan your wedding reception outdoors. Much of the cost of a wedding reception can be attributed to hiring tables, chairs, and a 3-course meal that – let's be honest – never seems to please everyone. So why not buck the trend?
Planning a beautiful, avant-garde outdoor picnic is a wonderful alternative to the traditional sit down reception. Instead of hiring your tables and chairs, you can purchase (or borrow) warm and comfortable blankets for your guests' to relax on. Fill their baskets with delicious edible treats and lots of sparkling wine. For pudding, embrace the summer and make your own strawberry tarts and victoria sponge just for your guests.
The great thing about an outdoor picnic reception is that everything should look hand-made and personal. Think tealights in re-used jars, floral bunting, and china tea cups. This is something that everyone, no matter how old or young, will simply adore.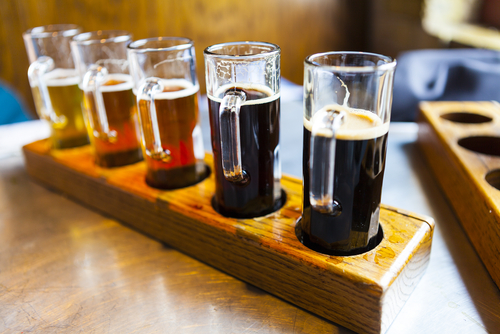 Get in touch with a local brewery/regional wine business
One of the most costly aspects of a wedding can be purchasing the wine and beer for your reception. No one wants to run out, so often people will buy more than they actually need. If you want to avoid this problem, you might want to consider getting in contact with a local brewery or regional wine business. If you are bulk buying, for example, they will often give you a cheaper deal.
This is something that your guests can really get involved in and enjoy. You can set up a table just for people to try new ales and wines. More often than not, local breweries will be able to supply you with a medley of different beers – from blonde, to wheat, and also dark ales. This is the type of thing that seems much more impressive than it actually is.
If this isn't something that appeals to you, then you could always create your own special cocktail for the wedding reception. Enroll in a cocktail class or even concoct a beautiful drink just for your guests. This is a fun alternative to supplying everyone with Champagne and is much more personalised.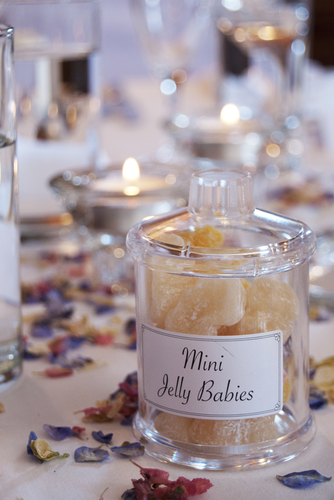 Make your own wedding favours
It's a well-established and popular tradition that wedding parties should supply their guests with favours at the reception. This is a lovely way of thanking your guests for their kindness and participation in your wedding. However, it can often be an expensive affair; especially if you have invited more people than your initially intended.
To avoid this problem, it's a good idea to make your own wedding favours rather than visiting your favourite department store. Here are some of the most unusual and interesting examples we've found:
Fragrant oils– give your guests little bottles of olive oil infused with rosemary, chilli, or thyme. This looks beautiful and is easy and inexpensive to make. Sweets – if you have a sweet tooth, you could always your guests a lovely selection of sugary edible treats. Pick your favourites and wrap them in colourful tissue paper tied with a bowe.
Individual cakes – buying a wedding cake can sometimes cost up to £1,000. This is a large portion of any budget, so it's a good idea to give your guests individual cakes as a wedding favour. This will perk up their blood sugar after the ceremony and save you a pretty penny in the meantime. Plus, little cakes always look so much more appealing than a big wedge after a 3-course meal.
Contact a local university for musical entertainment
One of the best parts of a wedding is dancing and have fun with friends and family. Hiring the right musical accompaniment is crucial, but you don't need to break the bank in the process. If you would like a more traditional first dance, then it's possible to hire a string quartet or jazz band from any major local university. These groups are highly talented and usually cost less than hiring a non-university band.
Alternatively, you and your fiance could just make a playlist of your favourite songs to play at the wedding. All you need to do is hire some speakers and plug your iPod in – it really couldn't get much easier. That way you'll be guaranteed to hear your favourite songs.
Give your guests puzzles and games
Weddings can often be a very long day, so it's important to keep your guests entertained – especially if there is any children. A great idea is to design puzzles and place them on your guests' reception table. For example, create a crossword puzzle which will reveal the wedding menu or songs that'll be played later on in the day. You could also put games on the back of your wedding programme.
There you have it – 5 fantastic ways to organise a wedding that won't break the bank. There are plenty of options available and weddings are a fantastic opportunity to get creative – you can even rope your fiance into helping you too. This will be one of the most important days of your life. That's why you should make sure that every detail is perfect.
This blog was written by Rachel Jensen on behalf of Ivy Ellen, the wedding invitations specialists.