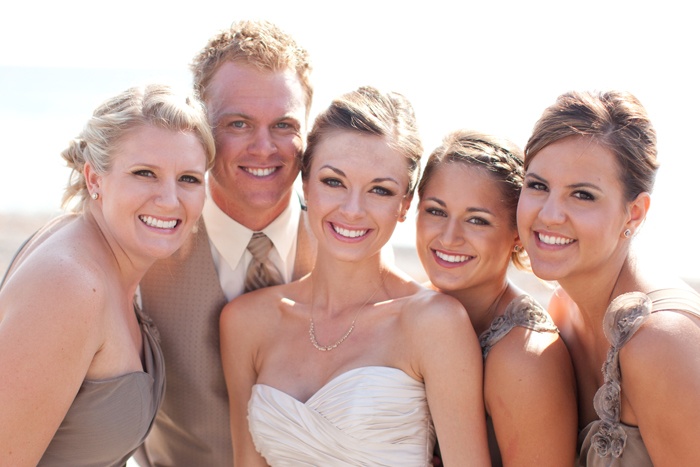 When most women dream of their wedding, they usually think of the dress, venue and a team of their favourite ladies by their side. They have the girly hen party all planned out in their head and will more than likely delight in the wedding plans… Not me!
The truth is, I probably only have two very close lady friends. And when it came to friendships in school and college, I've nearly always been a shy "quality over quantity" kind of person. My handful of close friends just so happen to be mostly guys. And although I've grown up in a house full of women, I've haven't always felt 100% comfortable in large groups of ladies (besides my family).
And, what if you and your significant other also happen to have mutual friends that are guys? Or you come from a house full of brothers? When I think of a bridal party, I think of the most influential people in my life and although it may get some strange reactions, I am definitely planning on having my favourite people up at the alter with me no matter their gender!
Reasons to Have Bridesmen
The clothes
Think about the endless hassle that comes with trying to find four to six dresses that can suit any shape and age group possible. But with guys, all you need is the same colour suit, shirt, tie and maybe some funky socks for fun. The most you may have to do is find a cute boutonniere on Etsy….
No bitching
Can you imagine a handful of guys bitching about one of the other Bridesmen who got the wrong gift for the bride? Or whining over what to do for the hen night? It's possible, but not likely if your guys are just regular guys. Less stress and arguments are always a good thing when it comes to your bridal party!
Multi-taskers
Chauffer, bouncer, muscle man (for lifting and carrying) and the "boyfriend" for any sticky situations your other hens might get into on the night of the wedding or hen. Plus, most guys will be so honoured that you've gone out of the norm route to choose them, they will be dedicated to making the day about you. They'll also have totally different perspective on wedding plans that you may find fresh ideas for your wedding.
Would you ask your best guy friend to be a bridesman? Or do you know someone who has had a bridesman? Share with us!
Image via Melissa Young Photography