Happy 4th of July Y'all!! We are super excited about Independence Day and celebrating all-things American. Get patriotic for your 4th of July themed wedding with these delicious treats.
Your guests will be completely blown away as these firework cake balls explode and tantalize their taste buds. We found this great DIY recipe from Party City. Celebrate the American dream and create your very own stars and stripes flag.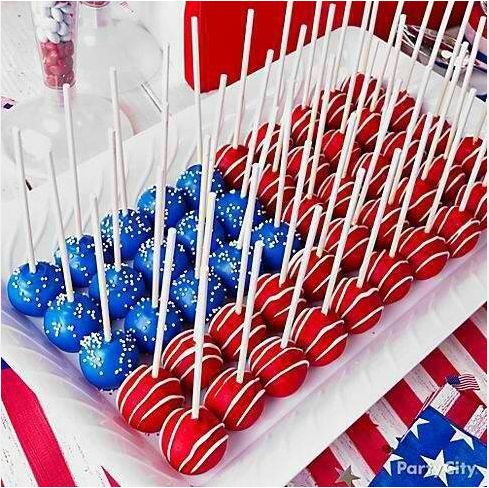 Essentials: Wax paper, 50 cookie sticks,Baking sheet, Chocolate melting pot.
Ingredients:
Red candy melts – Available at Hobby Craft 
Royal blue candy melts
Icing sugar
White
1 can of prepared vanilla frosting – Available at Betty Crocker. Alternatively you can make your own
Your favourite cake mix recipe of your choice
Instructions:
Once your cake mix has been cooked and is completely cool. Break up into crumbs and mix with a full can of frosting until well blended.
Make into cake balls. Roll into 50 x 1 inch balls and place on your baking paper.
Melt the candy melts as instructed on the packet. For your stars pops use blue melts. And for your stripes pops use red melts.
Add the sticks. Dip sticks about half an inch into warm candy melt and insert into each cake pop.
Prop up your pops. Place pops cake end down, on baking paper while the chocolate is still slightly warm, so the candy hardens into a flat surface at the top. This will help keep them standing up to serve.
Cool. Place in the fridge for 20-30 mins to cool.
Add a second layer of chocolate. Once the pops are firm, remove from the fridge and dip each into the melted chocolate, tapping excess chocolate off.
Sprinkle the stars. Decorate the blue pops with white sprinkles before chocolate coating hardens.
Drizzle the stripes. Drizzle white icing over the red pops after chocolate coating hardens.
Make your flag fly! Line up your pops to create the Stars and Stripes on a tray. They'll gobble up your sweets with spirit!
Image Credit: Party City.