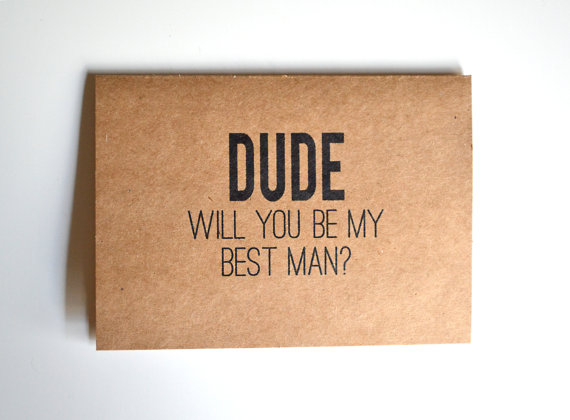 There's a lot involved with planning a wedding. Unless you're taking part in that well known television show, it's quite likely that the bride-to-be will take the lead when it comes to everything organisational. There is one main factor however that does not fall under her list of responsibilities – choosing the best man. Often it'll be an easy decision for the groom; usually a brother or best friend will do the honour. What they tend to forget however, is that there's a lot more to being a best man than might meet the eye. It's not only his job to plan a great stag night; he'll also be in charge of looking after the all-important wedding rings, getting the groom to the ceremony on time, and of course, making a speech during the wedding breakfast. It's the latter of these jobs that tends to faze the majority of best men. So to help you, I've come up with a list of do's and don'ts when it comes to making the best man's speech – just don't tell the groom!
Do…
There's nothing worse than a long, drawn out speech. Remember that you're not the only one who has to give one – both the bride's father and the groom himself will also have to make a speech. When you're practising your speech in front of the mirror, time yourself. If you've been speaking for up to 10 minutes by the time you've finished then you should consider cutting it down a little. Aim to talk for around five minutes, and don't waffle.
 Say Something Funny – But Keep it Clean
I'm sure you can think of loads of hilarious anecdotes – but stop for a moment and consider whether the wedding day is really the best time to bring them up. Making a best man's speech is less about embarrassing him with toe-curling tales of his antics and more about regaling everybody of that one time when. And if you're struggling to come up with anything funny, leave this part out altogether – you don't want forced laughter.
There are a few staples which every best man should address in his speech. Be sure to mention (with sincerity) how beautiful the bride looks and what a lovely couple the two of them make. Thank your fellow groomsmen and the bridesmaids and propose a toast at the end to make it more official.
Don't…
With emotions running high at weddings, you may well feel a tear start to well up in your eye. However, always remember that your job is to make sure the day runs smoothly, so any crying on your part will probably be considered a little too sentimental.
Steal The Groom's Thunder
It's fine to mention briefly that the bride looks beautiful, but try to avoid talking too much about how good she looks and focus on the pair of them as a couple. Similarly, remember that it is their day, so while your speech is an important part of it, it's not the be all and end all.
Tempted to load up on the Dutch courage? It is not exactly uncommon for us to want a small one to soften the nerves, but watch your step! Slurring your words and hiccupping through the speech will not make a great impression. Don't forget that consuming too much alcohol could make you say something you regret later on.
Follow these tips and your best man's speech will be a success!
Guest post contributed by freelance wedding blogger Rachael Blakewood in collaboration with Bride & Groom Direct.
Image via Etsy