A roaring twenties inspired celebration full of glitz and glamour – and the venue was just show-stopping.
Quite literally a match made in heaven…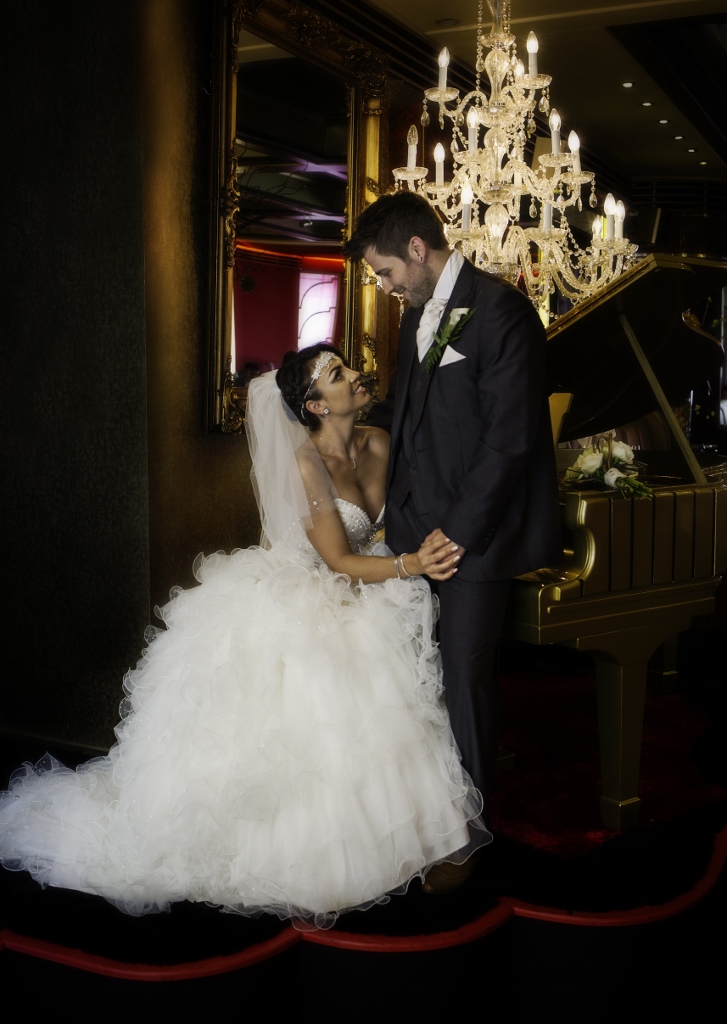 Danielle and Ben met on a night out in Sheffield when their group of friends came face-to-face in an almighty dance-off!
The tradition of epic dance routines was of course a major feature at their wedding reception with local break-dancers joining the newlyweds on the floor to get the crowd going!
Ben surprised Danielle with a romantic candlelit proposal at their home. "I was completely surprised and Ben was so nervous, bless him. The ring was beautiful!"
The stunning bride could easily have rivaled Kim Kardashian West on the day – what a beauty! Her flawless make up highlighted her dark eyes and her tousled tresses were swept into a retro up-style. Her vintage look was completed with an embellished headband. While her main ladies glistened in glittering sequin and champagne tone gowns.
And just check out her super cute choice of footwear!
"We had been told how glamourous the Earl of Doncaster Hotel was and how they have a stunning ballroom. So, we went to look at it and instantly fell in love."
"At the time, we had come second in a wedding competition with HallamFM called Win Your Wedding. We were devastated not to win as we raised £10,000 for Cash4Kids charity. We had so much publicity and support from it that our close friends still wanted to help us build our dream wedding."
"With a young child at home, Ben and I had been struggling financially to afford the wedding we always wanted. A group of amazing friends helped us out! Two of them, Louise Leadbeater and Sally Wilkinson, approached the Earl of Doncaster with our situation and asked if there was any way they would be willing to help in return for publicity. They built us an amazing wedding package for a fantastic price that we could finally afford!"
"The Wedding Coordinator was fantastic all the way through and couldn't do enough for us on our special day. The food and service was great!!! The venue really has that extra wow factor, so our photos turned out amazing!"
"Our photographer Sally Wilkinson not only donated her time and services to us at no cost, she spent a great deal of time making us and all our guests feel at ease and comfortable throughout the entire day. Sally has become a beautiful friend, with a heart of gold. She goes above and beyond to get the right photographs and to capture the most precious moments."
"We would like to say a heartfelt thank everyone who donated their time and services to help make our dream wedding come true! Especially, Claire Jasoik for her time making me and all the groomsmen look amazing! Kellee Harvey for our amazing cake and Louise Leadbeater for dedicating her time to help us create the dream wedding and for providing her make up services for me and the bridesmaids. Nick Phillips for helping to secure the wedding cars, ring and flowers and Tony Kenny at the Code Blue Group for designing and donating our Gatsby name cards, table plan and invitations. Also to Faye at Unique Bridal Boutique for her gorgeous décor and table attire."
A huge thank you to Danielle and Ben for sharing their spectacular wedding with us, and to their photographer Sally Wilkinson for allowing us to publish these stunning shots. You can see more of her work at www.shwphotography.smugmug.com
Supplier Information