I don't think you can ever get tired of a good 'ol proposal story. Here is one of the most heart warming engagement stories from around the web. This week, we have a high school proposal! Check it out…
Surprise Proposal at School
Jon Holt and Iris Howorth are both teachers at Chalmette High School in Chalmette, Louisiana. The school has played a huge part in their story over the past three years, so it only seemed appropriate that's where Holt decided to pop the big question.
On April 24, the students in Howorth's third-period English class got just about as big of a surprise and she did.
"It was a last-minute decision to not tell the kids until the minute before it was happening," Holt said, knowing that a bunch of excited high schoolers may not be able to keep the secret. "I ordered 100 balloons and a whole bunch of ring pops," referring to the candies on rings.
Holt also arranged for the principal to knock on Howorth's door asking if he could meet with her quickly in his office. Meanwhile, Holt was nervously hiding in the stairwell next door with the school's entire brass band in tow, waiting for the perfect chance to escape. "Just imagine a bunch of kids with huge instruments trying to be quiet," he quipped. As soon as the coast was clear, he darted into her classroom and gave all of her students ring pops.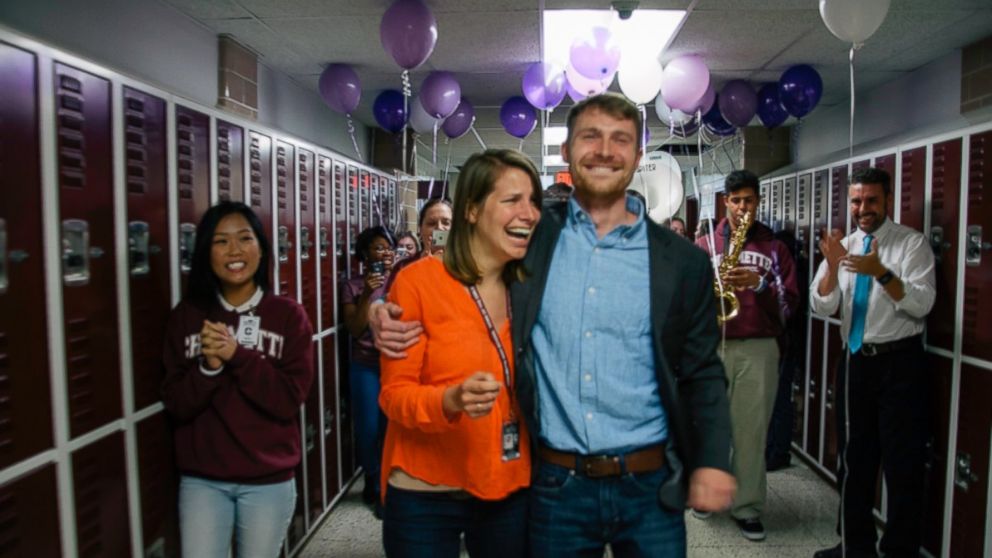 "The kids were freaking out," Holt said. "They had absolutely no idea what was happening. But then they all screamed and were so excited and I said, 'Who's the funny guy? Who's the class clown? Whenever the moment's right, get down on one knee and propose to Ms. Howorth. But then after you're done with that, I need someone else to do it and so on and so on." The kids followed orders perfectly.
Congrats to the happy couple! Stay tuned for more engagement stories.