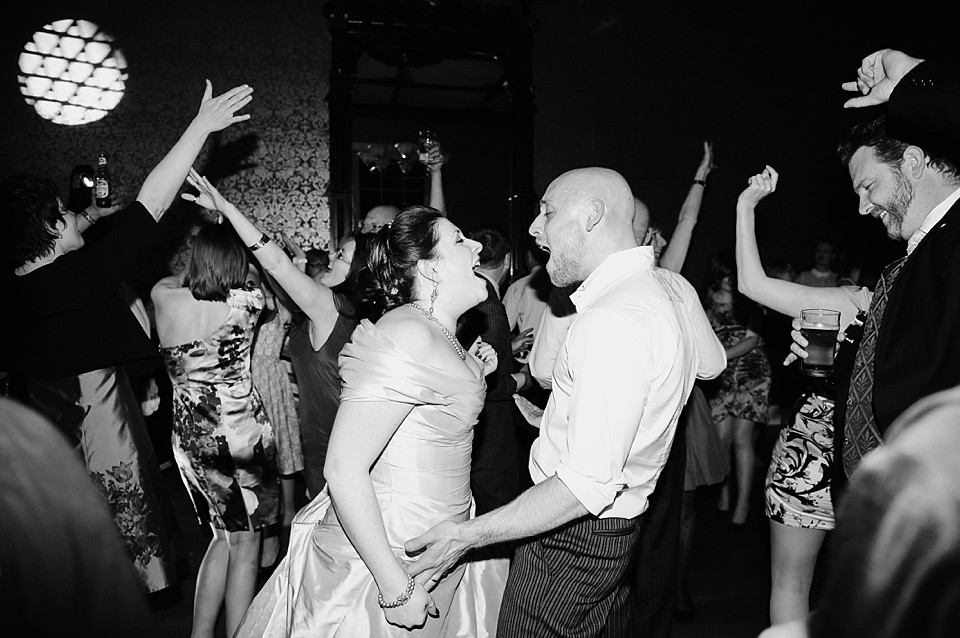 It was at the back end of the noughties when the 'alternative' first wedding dance craze took hold. From couples swiftly moving from slow dance to line dance or feigning a break down in the sound system, allowing them to bust out Thriller by Michael Jackson, these first dances with a difference certainly provided guests (and YouTube viewers) with great entertainment.
As we provide wedding entertainment and DJ hire in Hertfordshire, our team at Party Events Unlimited have seen it all: from the tear-jerking slow dance to a love song, through to the fun and crazy dances to songs including Baby Got Back by Sir Mix A Lot. We've felt privileged to be involved in each couple's first dance, as it is a beautiful (or funny, whichever route you take!) thing to watch.
If you're planning your wedding, no doubt you'll want to offer your guests the best experience. After all, your guests have made the effort to join you on your special day and it's lovely to give something back. Plus, you'll want to make their wedding memorable not only for yourselves, but for your friends and family, and even future generations to look back on. What better way to do this than to BE the wedding entertainment yourself?
So if you're planning on adding a surprise into your first wedding dance, what do you need to consider?
1) Will it just be an alternative song or will you act out the scene?
For instance, if you're both lovers of rock music and met at a Rock Gods music night, it'd be fitting to simply have some of your favourite songs while inviting your guests to join you in dancing, or even head banging. But maybe you want to take it a step further and start off with a slow dance to a love song, stop the music, then put on your surprise song and dance a choreographed routine, while your guests watch and cheer on.
2) Can you dance?
You might have seen the YouTube videos of couples synchronising their Baby Got Back by Sir Mix A Lot dance and envisage you and your fiancé doing the same. But what if you have two left feet? It might be wise to avoid an alternative first dance at the risk tripping over your dress. Or perhaps this'll add to the fun of the evening! If you plan far enough ahead, you can always practise, practise, practise.
3) Will you enlist the help of others?
Some couples like to keep the alternative first dance as their own little secret so that everyone at the wedding will have a nice surprise. There's always the risk that if you get the help from your bridal party, they could let it slip to others. Alternatively, getting others in on the act can create a bigger surprise for the rest of the guests. For instance, if you were to do the Thriller dance by Michael Jackson, zombie bridesmaids and ushers will have a bigger impact than just the bride and groom alone. To ensure the dance is performed glitch-free, practise sessions will need to be organised beforehand. This can add to the build up of excitement for the day, as dance practises can always be followed by a cool down at the pub.
4) Can the venue cater for your dance?
Whatever you decide, it's best practice to inform the venue of your plans beforehand. A sudden shift in the music from slow dance to line dance could go very wrong if a venue employee tried to correct it. You also may need to consider the dance floor. Heavy footed dances, such as Michael Jackson's Thriller or a line dance – particularly in heels – may not be suitable. So check everything out beforehand.
Of course, you also need to enlist the help of your DJ. As wedding entertainment experts, we can suggest songs and dances based on what we've seen work well before. We'll schedule some time to meet you before the big day to talk through your plans. We could even give you a mark out of ten if you want to give us a run through! Plus we'll ensure that the moment when the surprise comes is timed perfectly.
Your first dance, whether alternative or not, is such a special moment and we want to make sure it's perfect for you. If you're looking for wedding entertainment and DJ hire in Hertfordshire that will happily join in on your fun plans, we're it.