When is it? 
Galentine's Day is on the 13th of February every year, the day before the big V-day. This is so people who may not celebrate Valentine's Day still have a holiday to look forward to in a month that can seem to be full of lovehearts, romantic meals for 2 and endless red roses.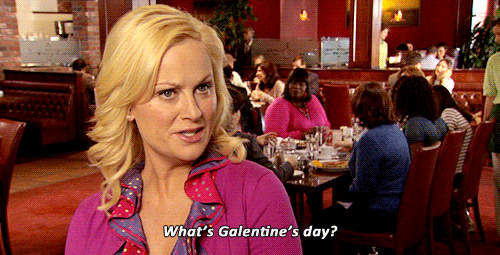 What's the message behind it? 
The message is simple, it's about ladies celebrating ladies. and just because it isn't an official holiday (yet) doesn't mean it's not important. It encourages us to be proactive and make plans with those friends we may not see very often but love dearly. Then, over waffles and Mimosas, celebrate what's wonderful about each other.
Where did it come from?
With it being a relatively new holiday, it has a fun origin story. The first Galentine's Day can be found in Season 2 of american sitcom Parks & Recreation, where protagonist Leslie Knope, portrayed by one of our favourite ladies Amy Poehler, invites the ladies in her life out to brunch. It becomes an annual event where a bunch of ladies get together, chat, exchange gifts and embrace the love they have for each other.
"February 14th Valentine's day is about romance but February 13th, Galentine's day, is about celebrating lady friends. It's wonderful and it should be a national holiday. Every February 13, my lady friends and I leave our husbands and our boyfriends at home and we just come and kick it, breakfast-style"
How should you celebrate?
With its popularity ever growing, companies have stepped up in recognising the day as an official "fake holiday"! Card companies now provide cards specific to the holiday and you can find bespoke gifts on sites like Etsy and FunkyPigeon. Even bars and restaurants are getting in on the act and hosting specific Galentine's themed brunches and events, you are sure to find one in your area. You could plan a relaxing spa day, a fancy wine and cheese night or a trip to the theatre. But truth be told, all you need is a bunch of your best girlfriends, some yummy food, plenty of wine and laughter. Whether you want to go out or stay in is your prerogative. If the bank account is still recovering from Christmas, why not re-visit your youth and organise an epic slumber party full of chick flicks and junk food? Whatever you and the girls end up doing, as long as the room is filled with love and laughter, you're doing it right.
What should you gift? 
While Valentine's Day may be more commercialised and about the price and enormity of the gift, Galentine's Day is more about the thoughtful gift and brightening up someone's day. You could take a leaf out of Leslie Knope's book and gift your friends essays on why they are so awesome, needlepoint pillows with their face on it, and a personal mosaic portrait made from crushed cans of their favourite diet drink. Cosmopolitan have created a comprehensive list of things that are perfect gifts for Galentine's Day, but our picks would be a fancy candle that smells like a luxury spa, an old photo of you and your gals framed, or a book/print that you think she'd really love.
Happy Galentine's Day from WeddingDates!