No longer hanging on like a fad diet, the Gin trend is here to stay for 2016! Pop-up bars and travelling drink stations were all the rage this year and if gin is your tipple of choice, you are in for a real treat. Not only will you be serving refreshing G & Ts to your guests on the big day, you will also be organising a hen party masterclass with your main ladies and serving sumptuous signature cocktails in no time!
Gabby Garcia, Co-Founder of The Gin Emporium Limited, reveals four ways to include 2016's biggest trend throughout your festivities. Take ginspiration from these ideas which go one step further than just serving drinks. Happy wedding day and don't forget to enjoy a big glass of Gin!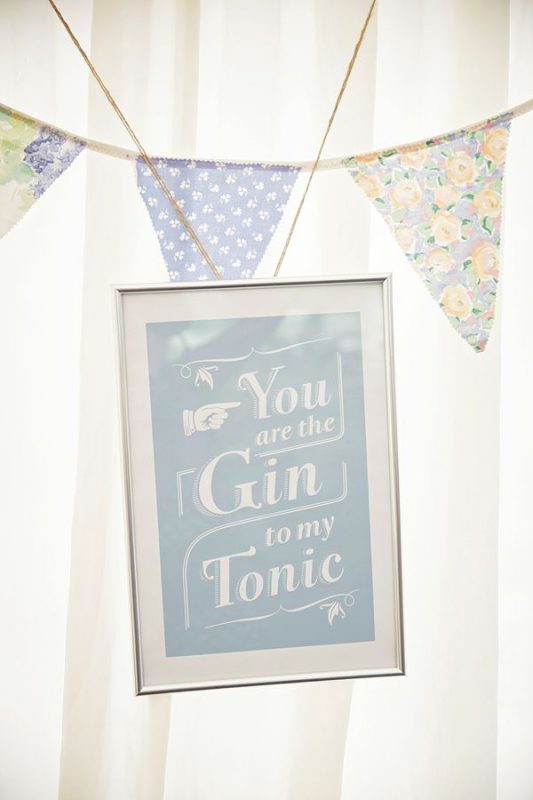 Table Names
Like all good events, table names are the difference between a smooth transition from the I do to let's eat and herding 150 cats across a rope bridge. Add something a little different to your seating plan by naming your tables after well-known gins – the niche and craft variety of course! After all, you will be an expert following your master tasting class during your pre-wedding antics.
To add a more vintage quirky feel to your decor, use the bottles corresponding to the name of each table as the focal center piece and fill with flowers – plus you will have lots of fun with all the gin you will 'have' to consume before your big day! Each table can have its own ginspiring theme, for Table Chilgrove why not create Cowes week glamour with a nautical theme or Table Pinkster full of raspberries and all things oh so pretty and pink.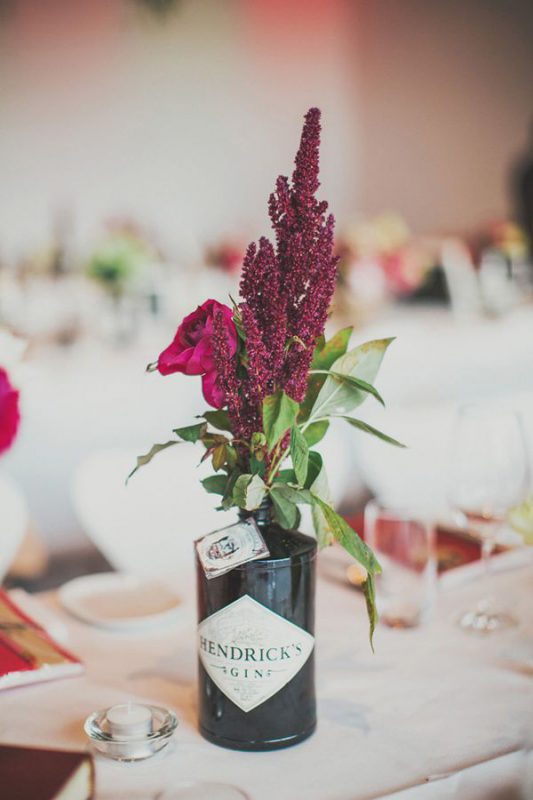 Wedding Favours
The perfect favors for a Gin Experience wedding are Gin Infused or Miniature Gin favours, both for their opulence and excitement. Gin infused wedding favors are a delightful treat for your pals, you can either infuse them yourselves or purchase directly from The Gin Emporium. If you are brave enough to DIY your favors for a more personal and bespoke element, here is a really good article on how to do so.
Food Glorious Food!
To continue on with your Gin theme, adding hints of the delightful spirit into your wedding menu will bring your evening banquet to a whole new level – your wedding will be the talk of the town for months with these little surprises. Discuss with the Head Chef at your venue about including gin themed dishes such as a starter of gin-smoked salmon or a dessert of gin and tonic sorbet! Both these dishes are wildly refreshing and will keep your theme well and truly alive. Stand out from the crowd and wow everyone by adding a gin and tonic element to your wedding cake. Adding in one layer or simply infusing the buttercream with gin will totally elevate your cake making it burst with unusual flavours! Talk to the creator of your fabulous cake, they will be able to get the balance right ensuring you break old traditions but still end up with a beautiful masterpiece.
If you are having an afternoon tea party at your drinks reception you can incorporate gin in your canapés too! Salmon, dill and Gin cream vol-au-vents are delicious! Serve some gin and tonic cupcakes on your tea trolley and you will be totally winning!
The Fun Part
Get your party really started by perfecting what you will be serving at the bar! The Gin Emporium firmly believes there is a Gin for everyone, even people who say they despise it! Choose your menu carefully so that you have a strong range for everyone to sample.
For the whisky lovers choose a Scottish Gin like Rock Rose or The Botanist. The peat in the Gin has a reminiscence of whisky which will have them hooked!
For the non-juniper fans go for something infused – try something such as an elderflower flavour. Warner Edwards is a fabulous choice.
For your fun-filled summer affair, serve Gin and ginger beer – Chilgrove Bright and Breezy!
In the rustic throws of autumn serve warmed summer cup or a damson Gin. Opt for mugs rather than glasses for that extra sprinkle of cozy.
In the winter, bring out the deep, decadent cocktail menu and have things like Martinez and Corpse Reviver. They will go down a storm at a winter wonderland wedding.
Don't choose premium Gins and then match them with bad tonics! Be sure you stock up on Fevertree and other premium tonics and garnish correctly to make a lasting impression.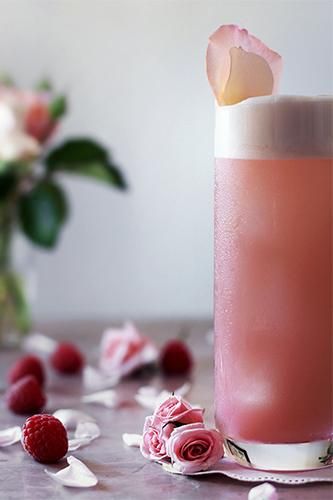 For the ultimate Wedding Accessory choose a mobile gin bar, the beauty of that is we will do everything for you making it totally stress-free! With lots of packages available we can provide our services to suit all budgets. For more details visit www.theginempo.co.uk
Image Credits via: Love My Dress; Ruffled; Refinery 29.