Happy 18th Birthday to the Sex and the City cast!!
I think we'll all remember these slightly awkward yet utterly spectacular wedding memories from our love affair with the ladies.
If anyone is looking for us, we'll be watching re-runs for the month and drinking bottomless cosmos…
"I feel the same way about being a bridesmaid as you feel about Botox. Painful and unnecessary." – Samantha
"The bride wore a dress by no one." – Anthony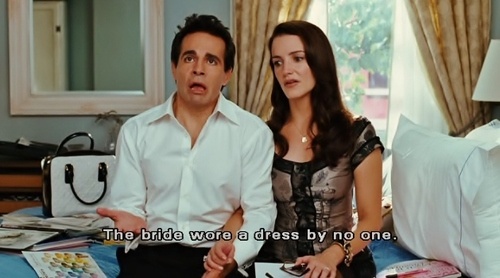 These vows. Every time. Swoon!
This face still haunts us to the very core…
And afterwards, we all secretly applauded this…
We didn't quite share Charlotte's optimism when she found out Trey wasn't interested in sex… the night before their wedding!!
While Miranda kicked ass with her whole wedding attitude – no white dress #GirlBoss
Yup, we knew things were doomed when Carrie wore Aidan's engagement ring around her neck…
We all wanted to be Carrie in this photo shoot…
These shoes shot to the top of EVERY bride-to-be's wedding wishlist…
Carrie totally slaying androgyny as Stanford's best man…
Image Credits: Giphs via Giphy.