An adventurous wedding across two countries in one day! A flirty tea-length wedding dress, bright floral arrangements and a totally alternative celebration on the Eurostar from London to Brussels. Sarah & Tom's big day is one of the coolest we've seen…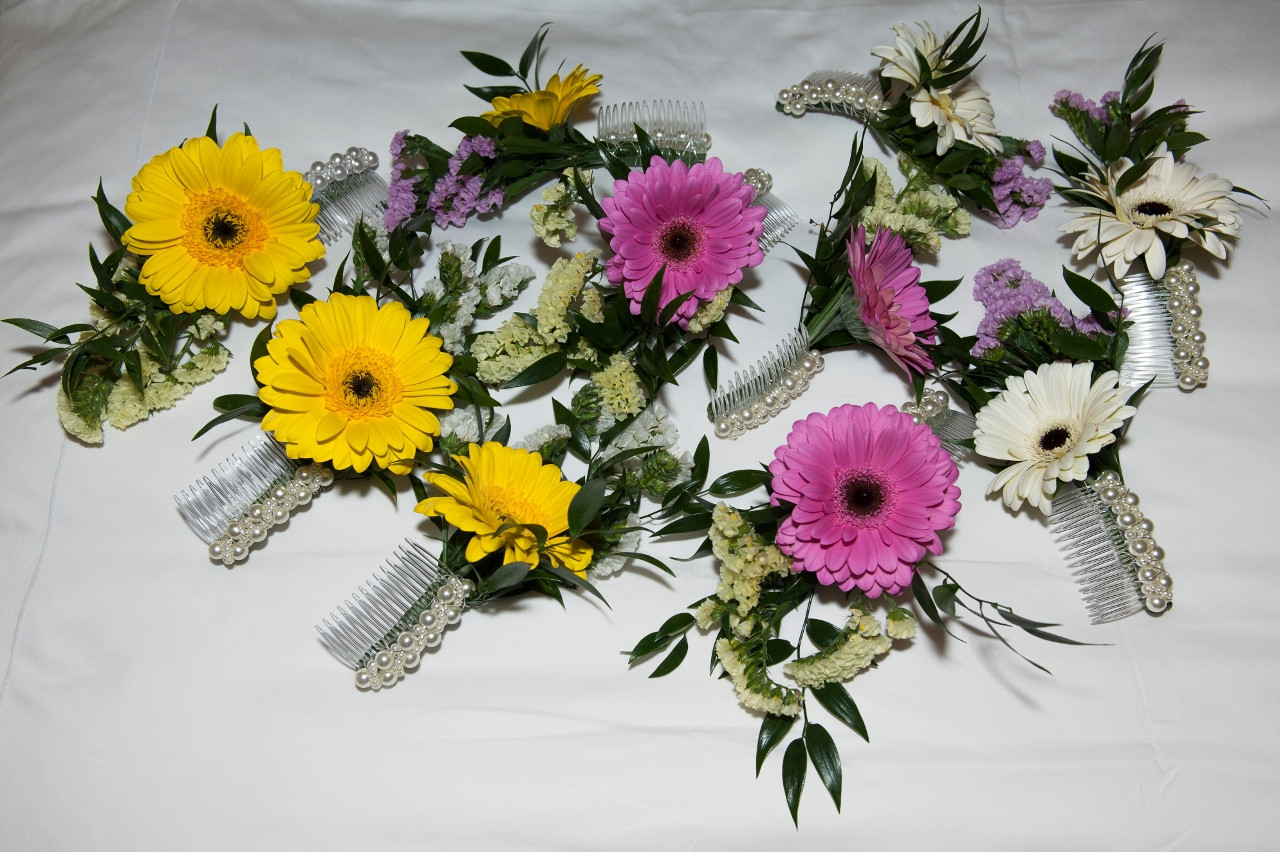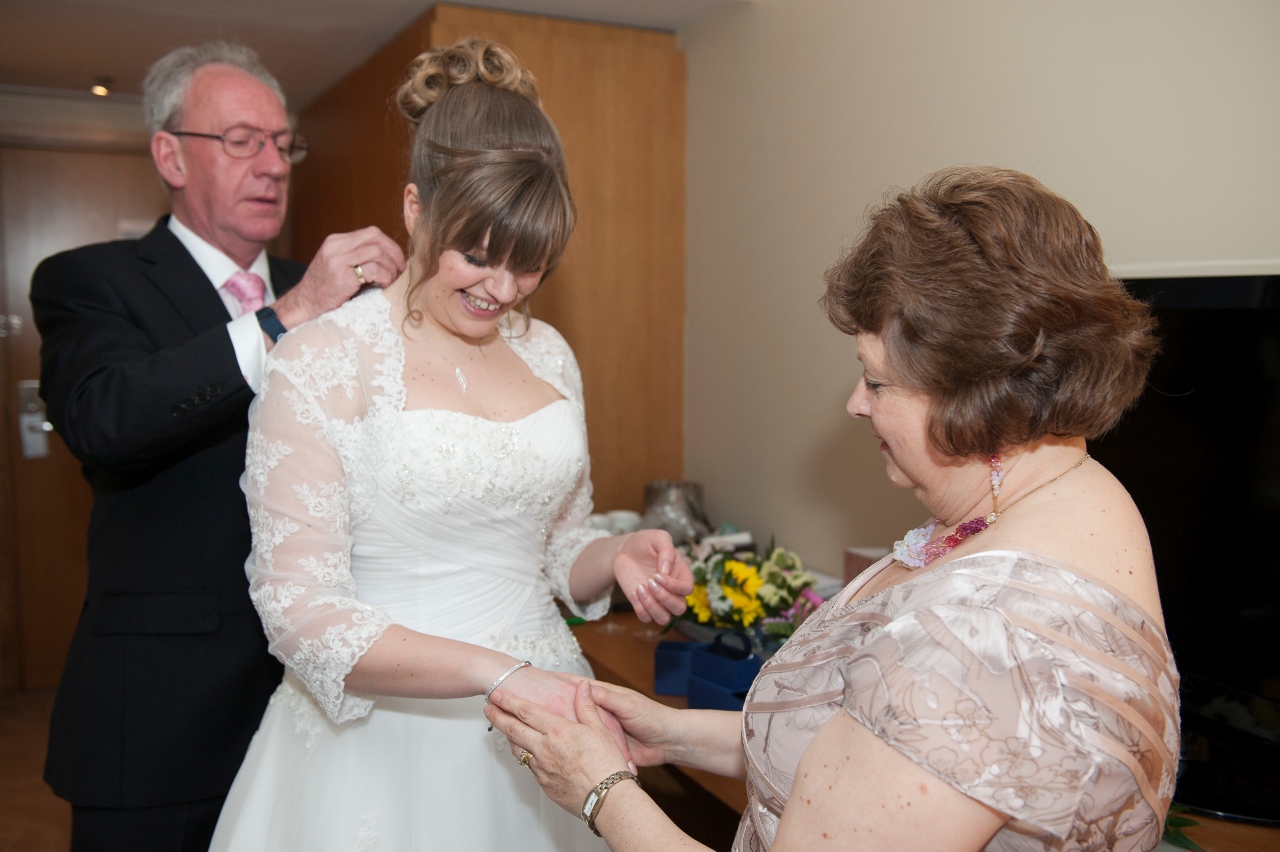 Sarah and Tom had their first mini-break as sweethearts in Brussels and knew then that they would ultimately need to include Belgium as part of their wedding. Seven years later their dream became a reality and over Easter 2015 when they enjoyed a cross-channel celebration with their family & friends.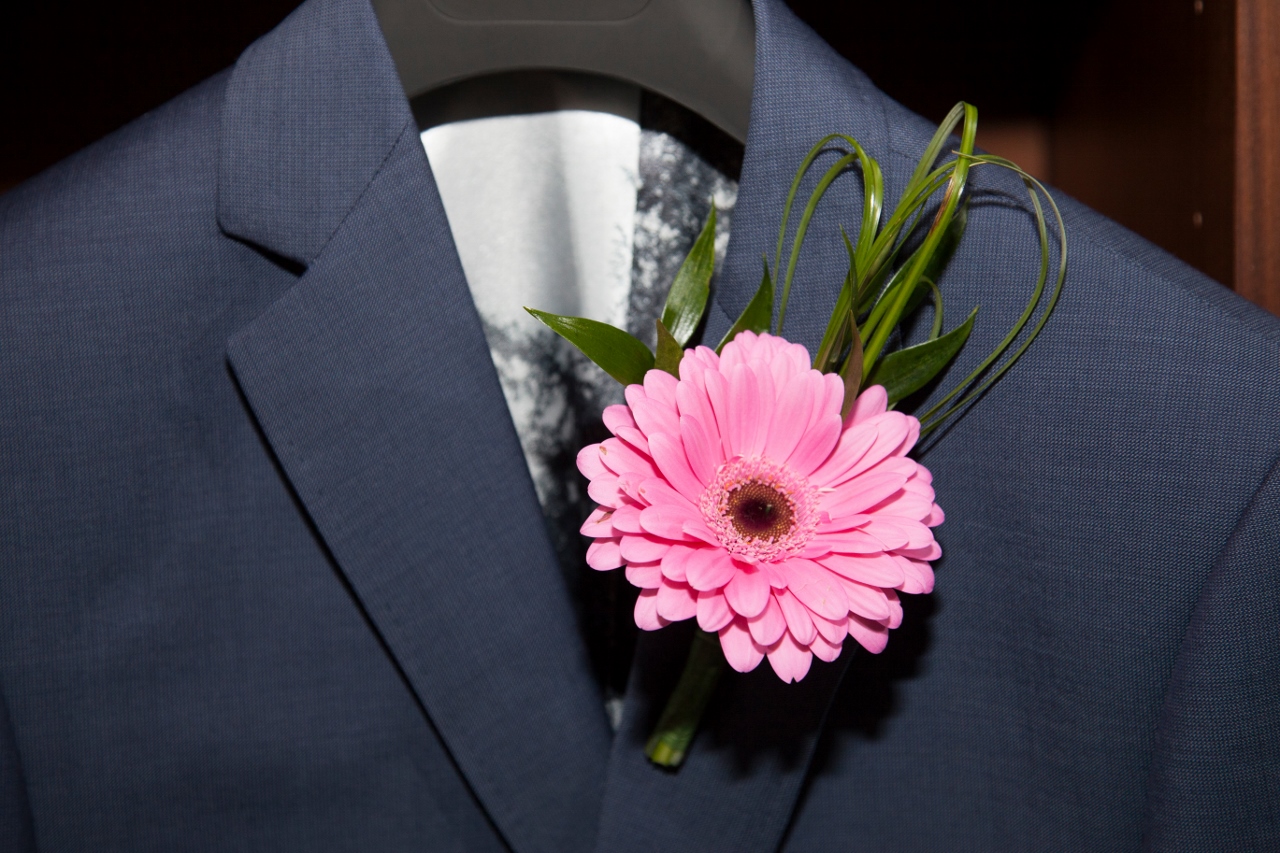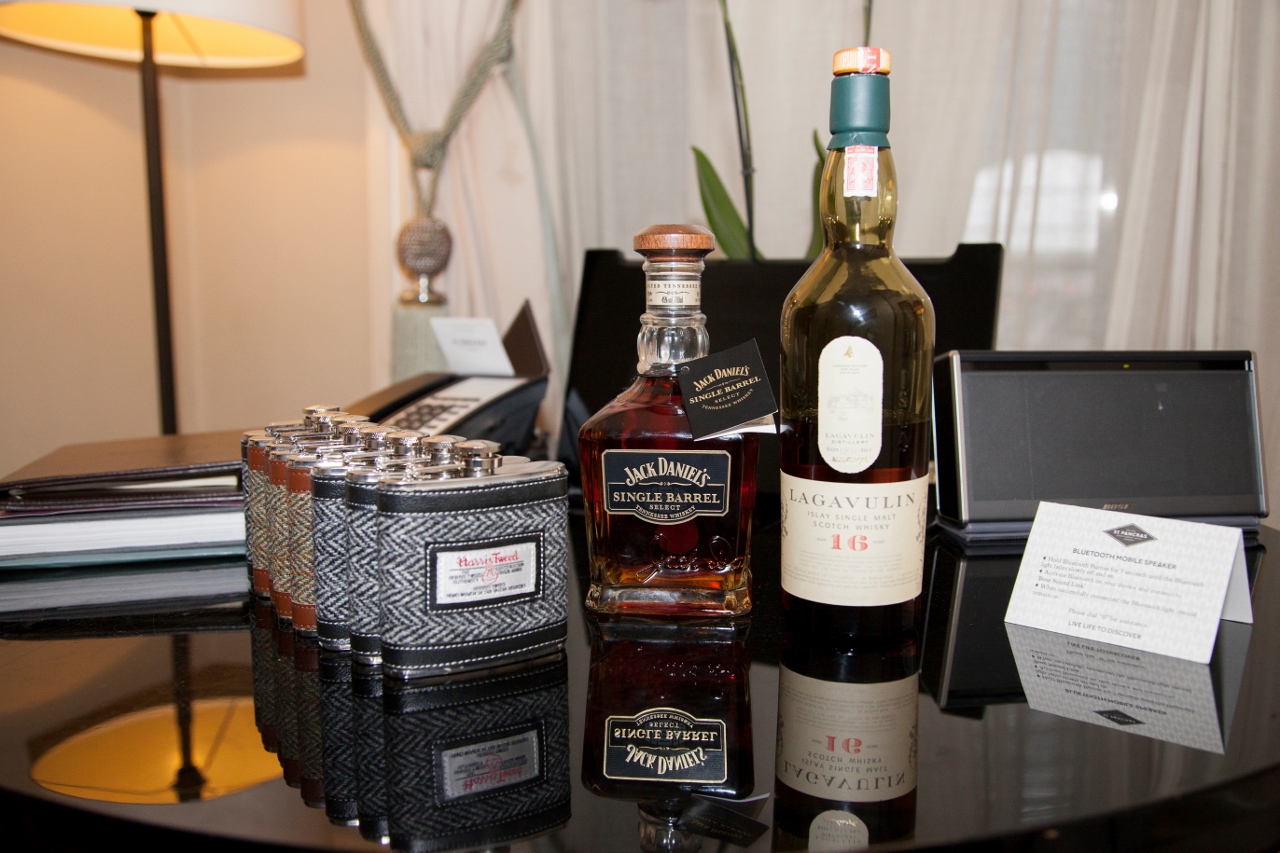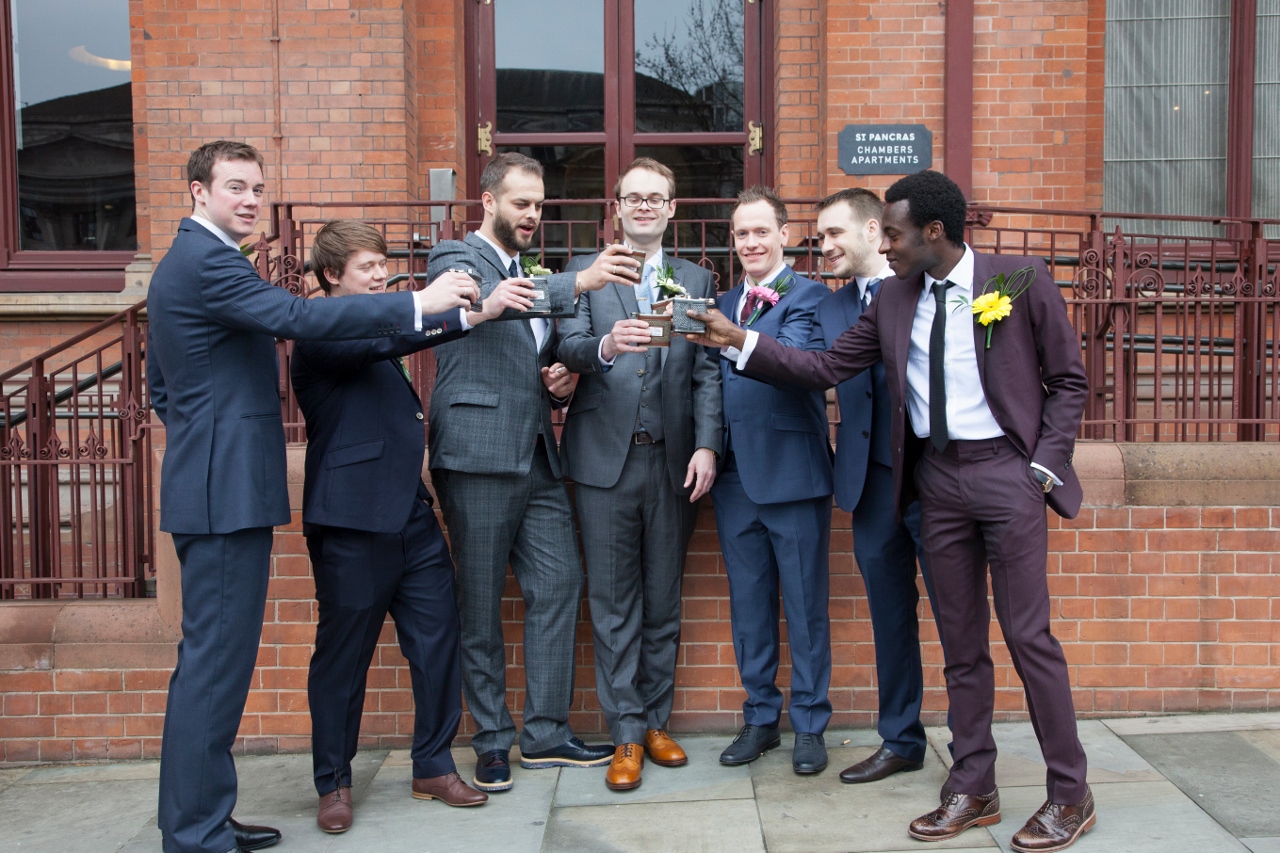 Getting ready at the glamorous St Pancras Renaissance Hotel in London Tom's party had a magnificent view of St Pancras International Station as they set about fine tuning their look, and filling up the whisky flasks. Tom wore a tailor-made suit from Reiss complete with Loake shoes.
Vibrant floral hairpieces, wrist corsages and the bridal bouquet were awaiting the bride as she arrived to put on her dress. Sarah wore a custom made to knee length dress, 'Violet' by Amanda Wyatt from Love Bridal in Crystal Palace with 'Orla' shoes by Ruby Shoo. A beautiful bracelet was given to her by her parents and she completed her bridal look with the veil from her fiancés Gran's wedding (who had worn it on her wedding day 70 years earlier).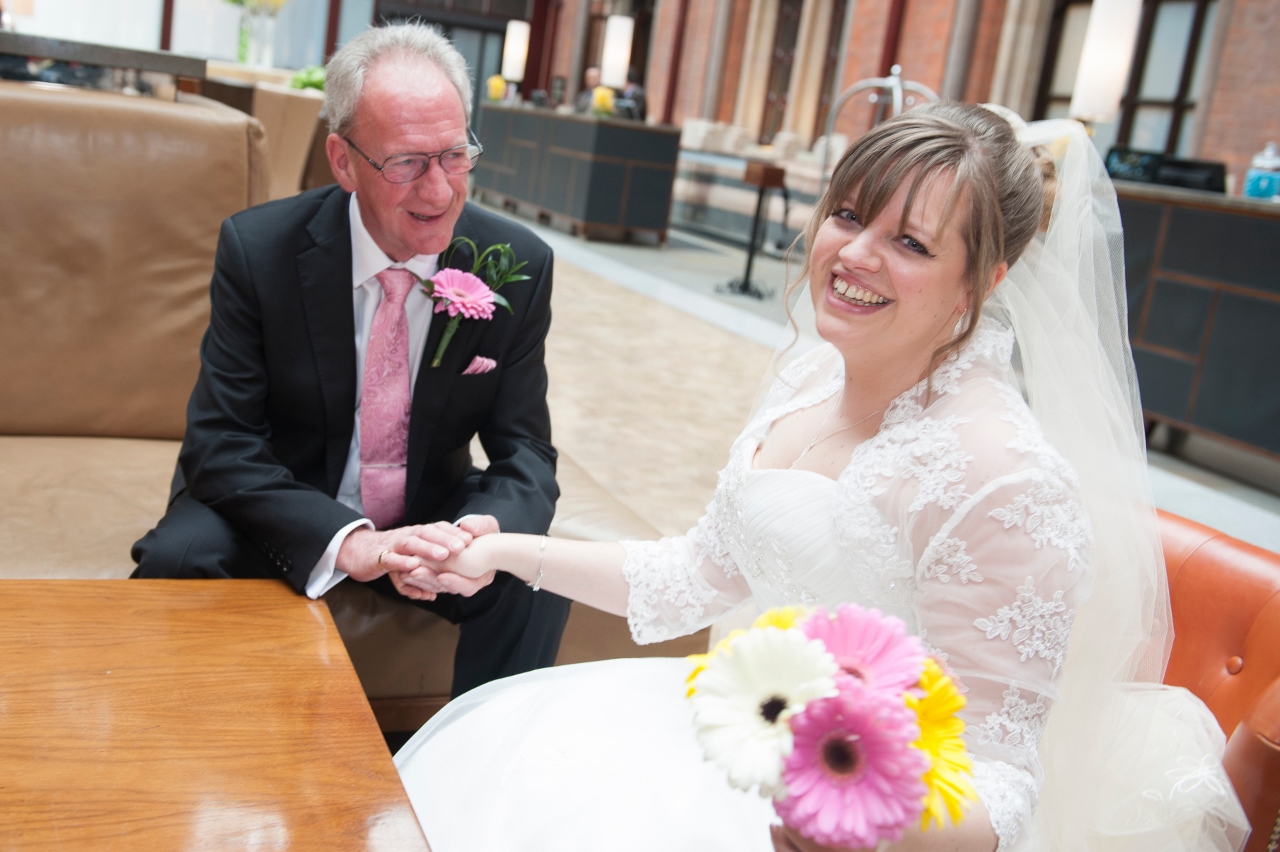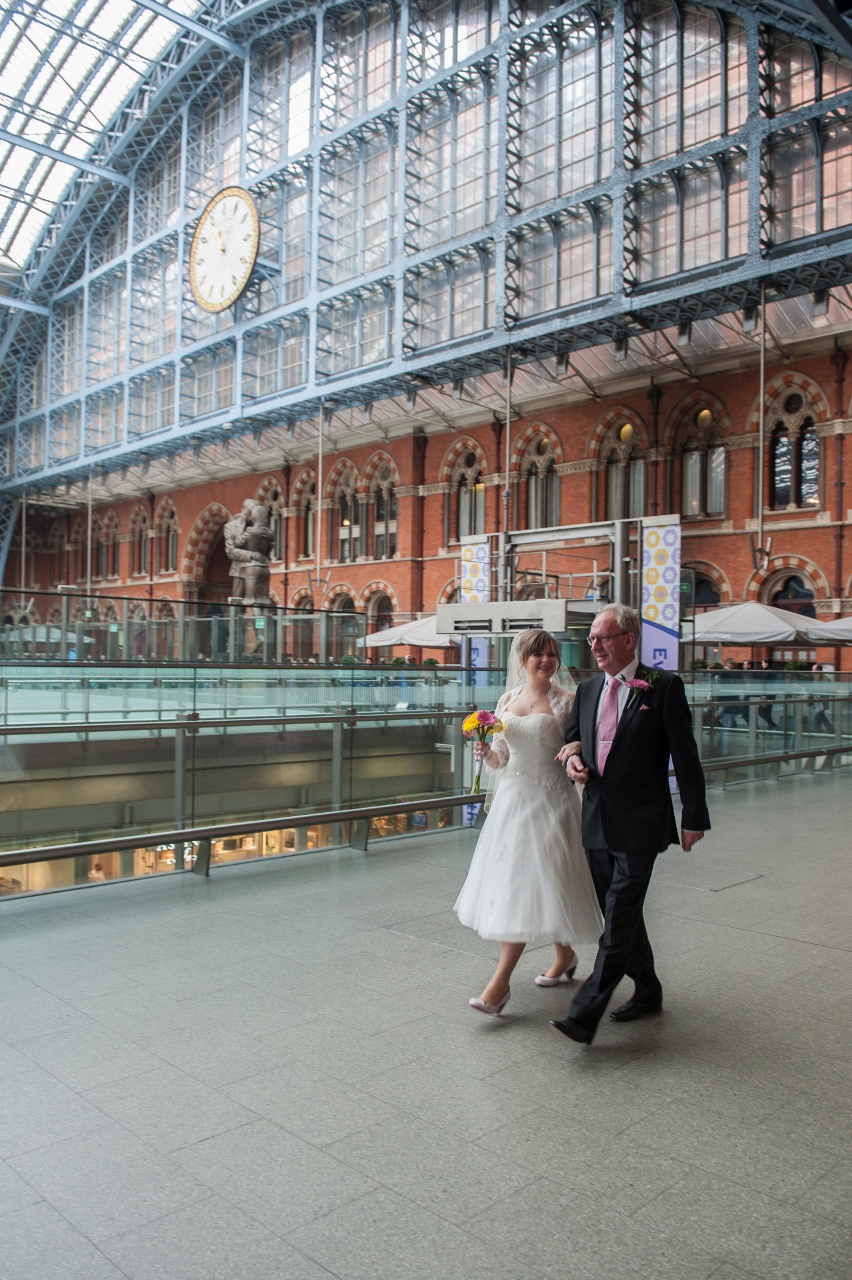 Sarah was escorted to the ceremony by her proud father and met by a beaming husband-to-be. Chair bows with pink, yellow and white gerberas complimented the bridal bouquet (both created by Iwona Bobowska from their venue St Pancras Grand Brasserie & Champagne Bar with flowers supplied by Isle of Flowers); and a gorgeous table display positioned in a vintage travel suitcase created by Isle of Flowers.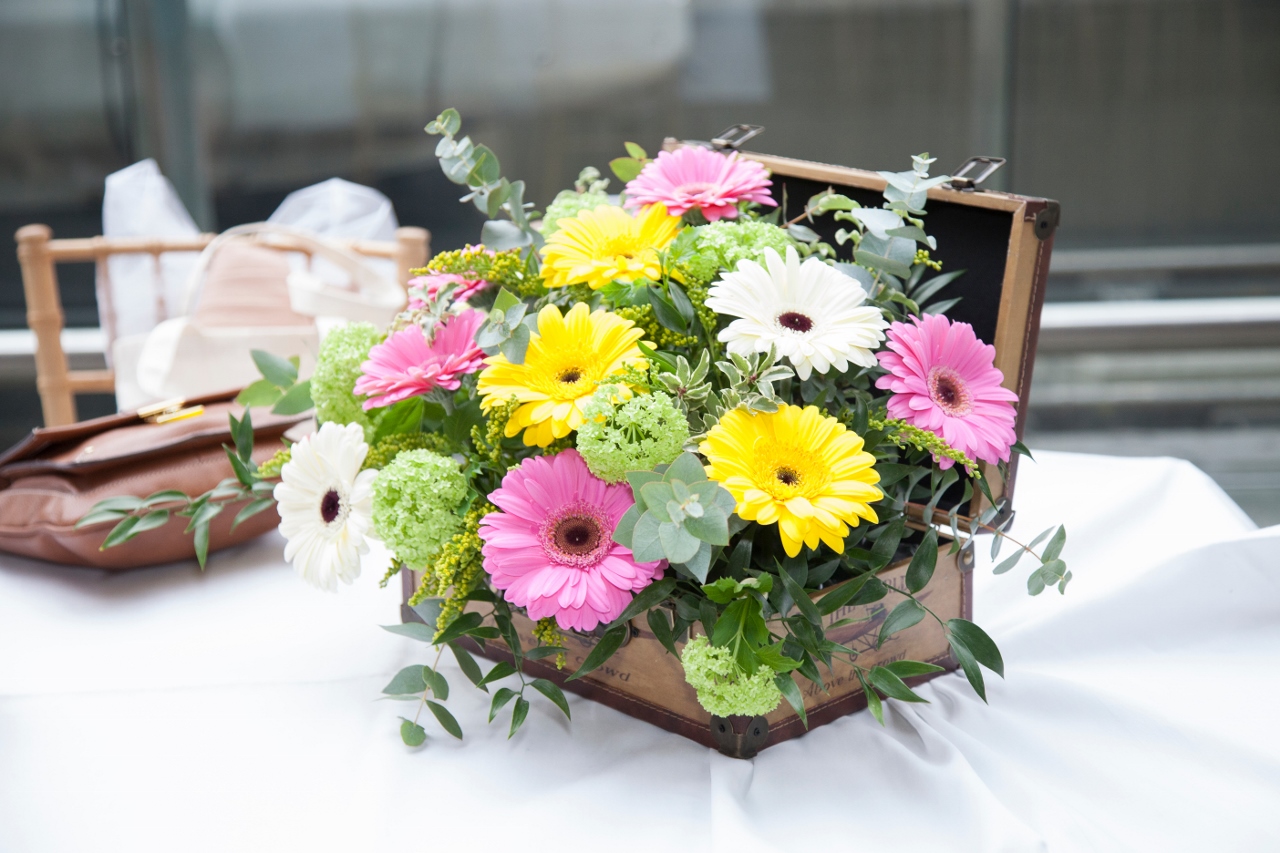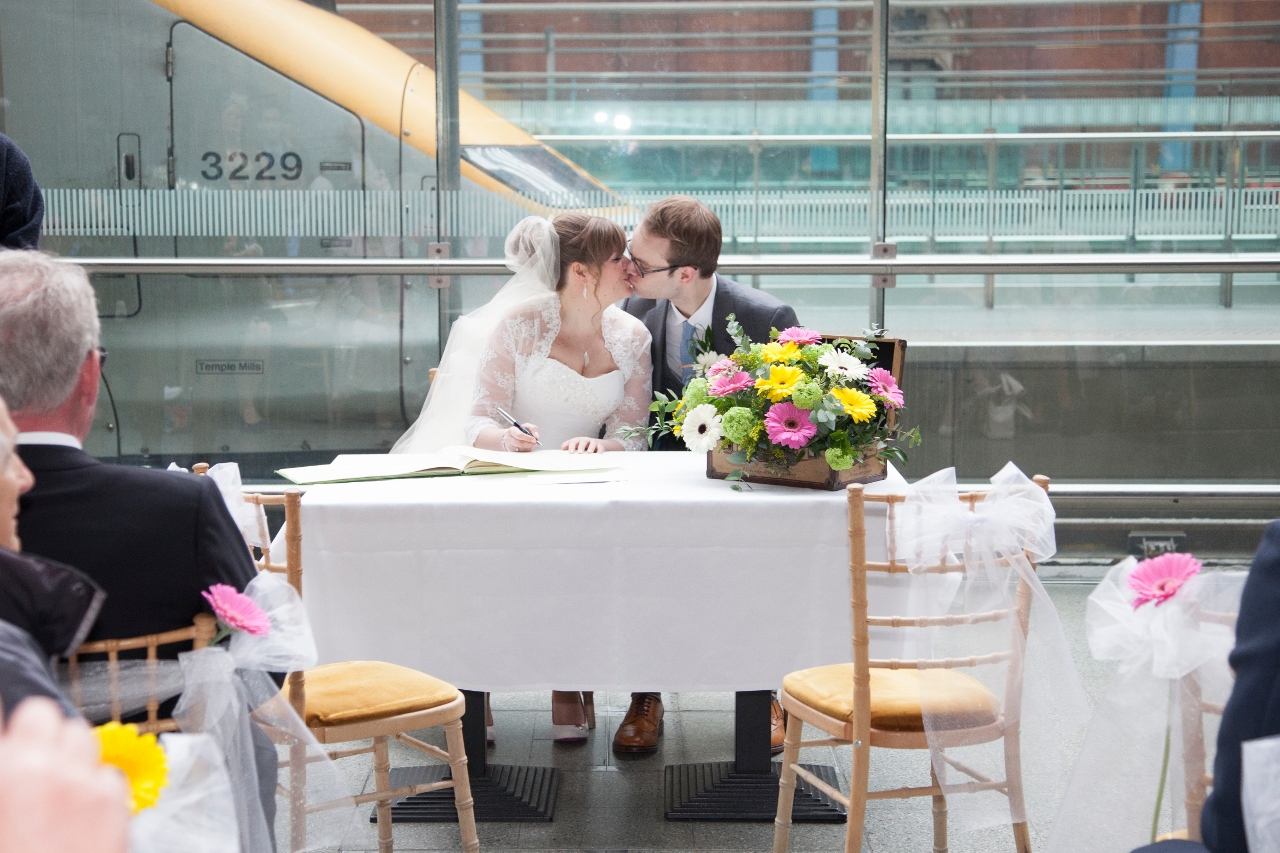 After the ceremony and a few group photos, the champagne and canapé reception began at adjacent Searcys Champagne Bar. Guests had time to mingle, catch up and congratulate the couple before heading off into the station to enjoy some of the restaurants and services including discounted lunches at St Pancras Grand and DesVins and free hand and arm massages at Rituals.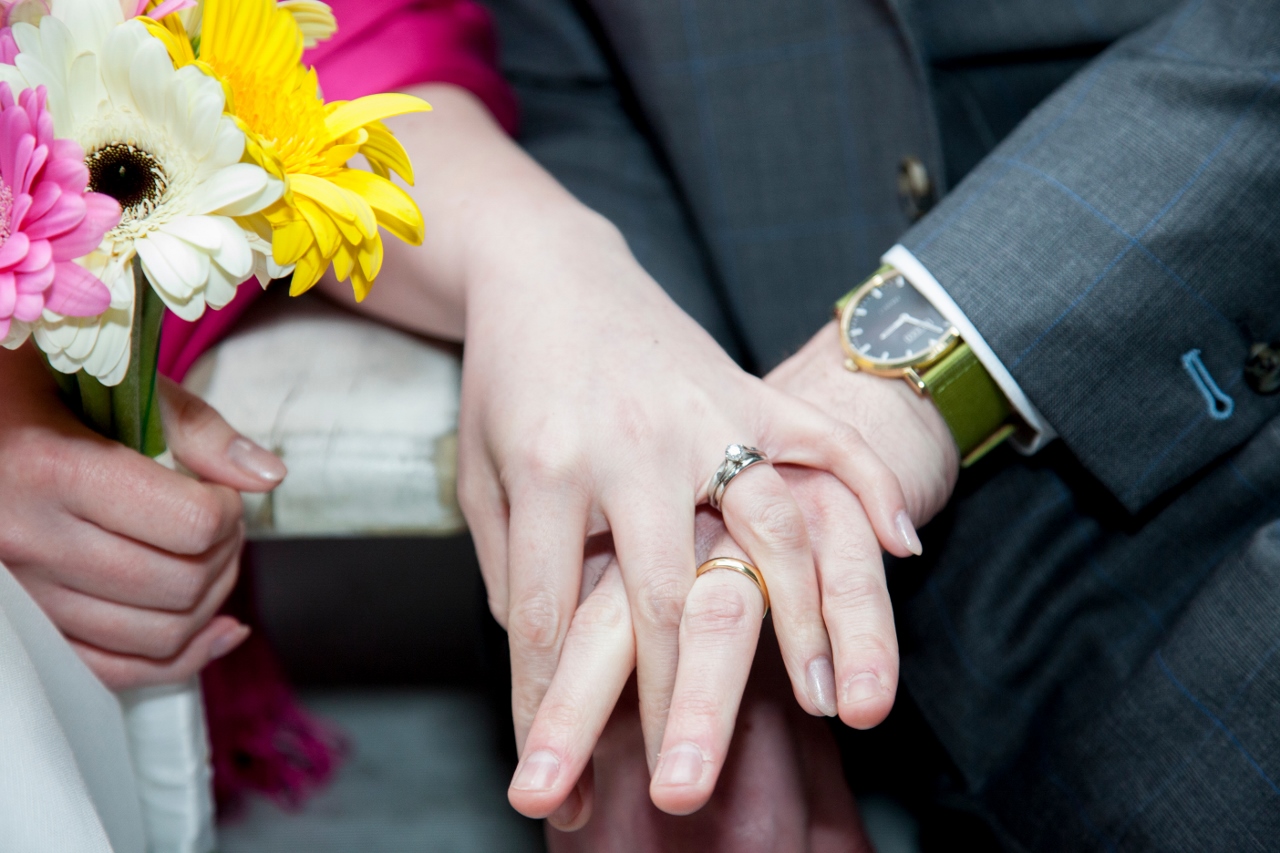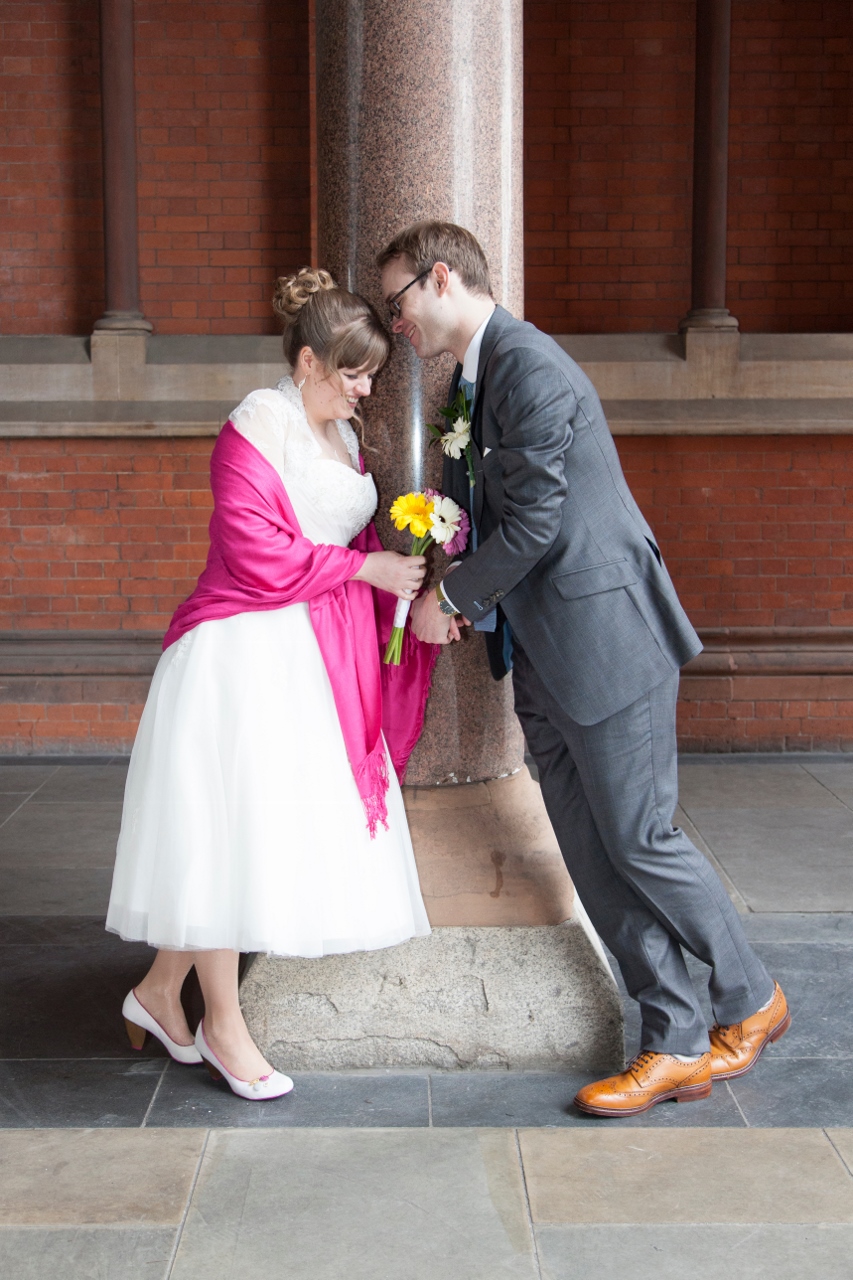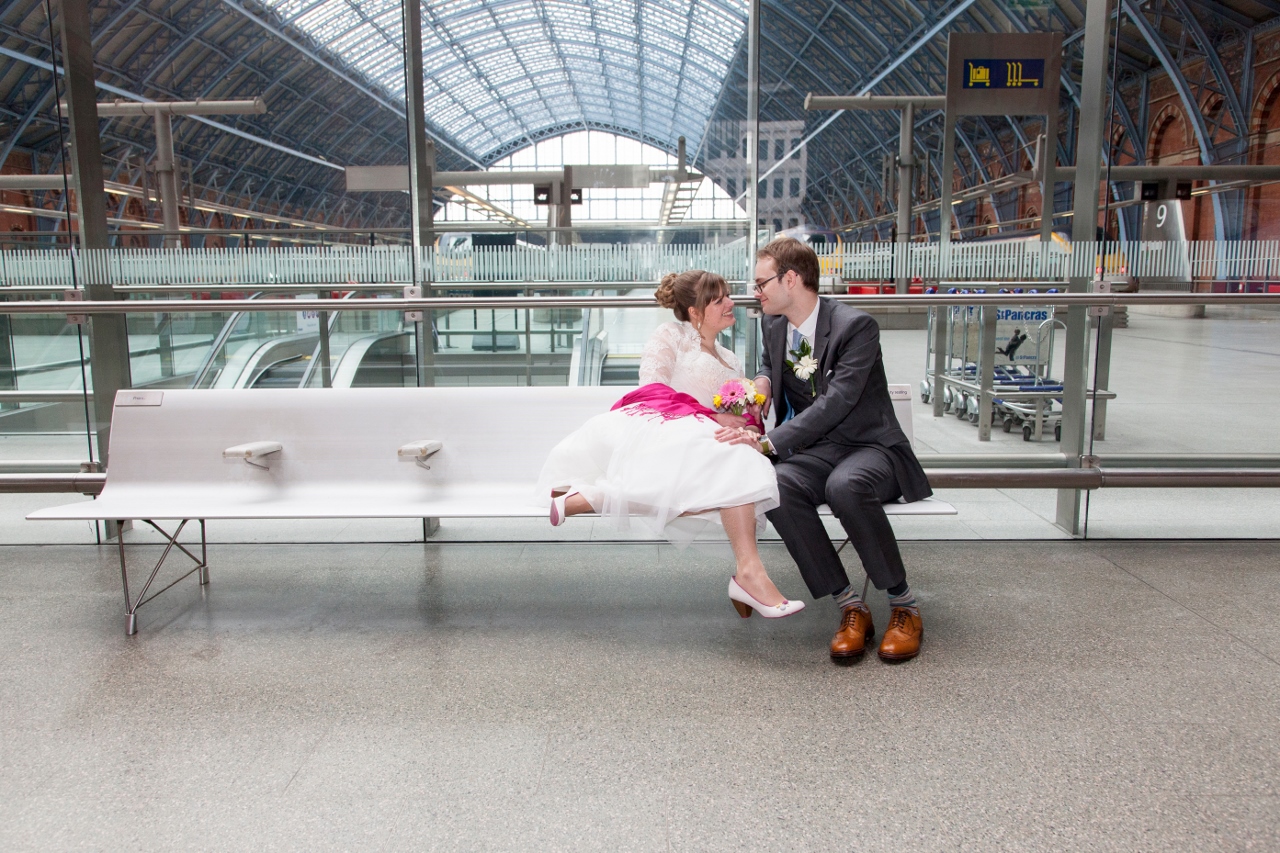 And the Eurostar team had excelled themselves in making the travelling process memorable – balloons heralded the barriered-off entrance to the exclusive check in gates, with "Félicitations Sarah and Tom. With love from Eurostar" digital signage – all in the bridal colours. Twelve of the guests had been given responsibility of carrying through a cool bag with chilled Piper Heidsieck champagne (one bottle per person allowance!).
Eurostar's Amy provided a personal escort and fast-tracked the couple and all their guests through the baggage scan and passport check; and then barely had the party sat down in departures, complete with congratulatory announcement from Eurostar, but early boarding was arranged on Platform 9.
There were more surprises to come. With support from two of the bride's friends, they brought a box of decorations and a beautiful chocolate cake on board – made by Iwona Bobowska the Events Manager at St Pancras Brasserie & Champagne Bar.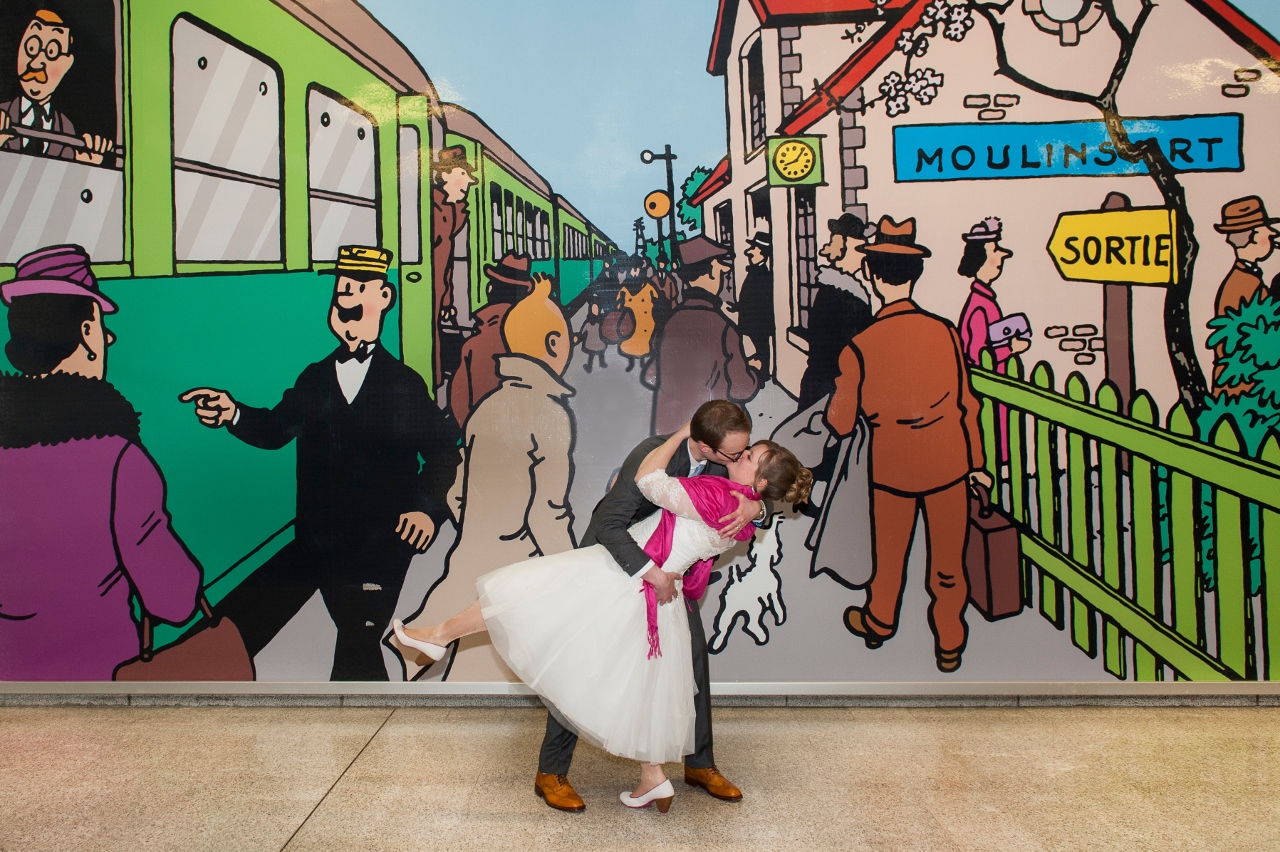 After setting off – and pouring out the Piper, the speeches kicked in over the PA system. After a quick train stop in Lille it was time for the cake to be cut, wishes to be made and cake served to everyone.
Yet again the Eurostar team excelled themselves on arrival at Brussels. At the station there was a red carpet laid out for the couple and guests. Plus there were more balloons in the bridal colours and a huge bouquet of flowers as the team greeted the bride and groom.
Taxis took us to our various hotels and arrival of the main group at the glorious Metropole Hotel was just slightly hampered by a slow check in due to the mass arrival! But soon we walked over to the Greenwich Café and the Reception began in earnest. Whether moules or rabbit, beer or wine, the food and drink were copious and tasty and much fun was had by all.
With a few of the party leaving around midnight by taxi, a group of around twenty 'hard core' guests walked to the Grand Place where Tom and Sarah enjoyed their official 'First Dance' as Mr and Mrs Anderton using music from their phone via the PA system!
The perfect end to the perfect day.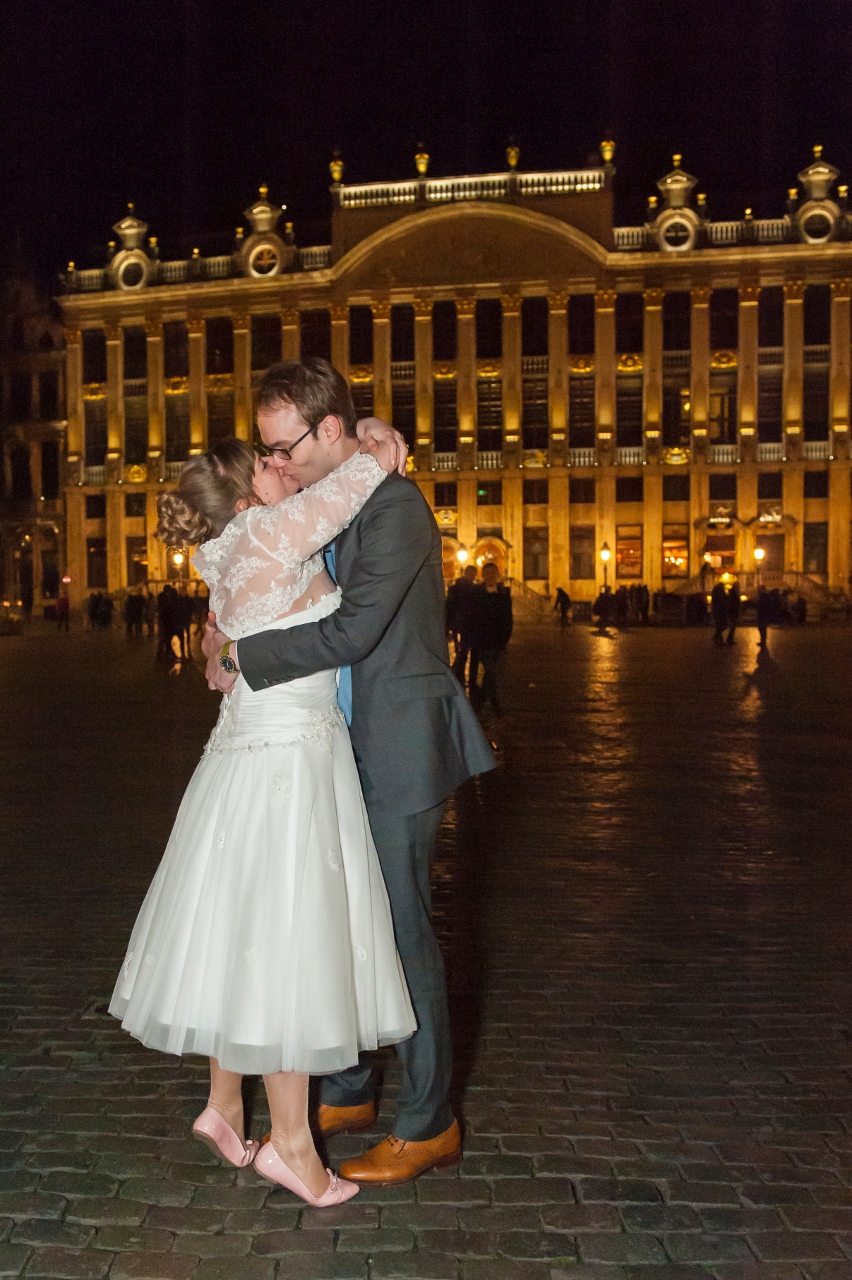 A huge thank you and Happy 1st Wedding Anniversary to Sarah & Tom! Also, thanks to their photographer Sam Lane for sharing these fabulous shots. You can see more of her work at www.samlanephotography.co.uk