We are all about the romance – and that means treating your man too! A surprise gift for the groom on your wedding day is the perfect beginning to your new chapter and it will set an added air of excitement. Whether you are planning an extravagant gesture or a personal keepsake, you can't go wrong with these ideas. Keep karma firmly in mind. What goes around comes around. No pressure when you are returning the favour lads. Hint hint…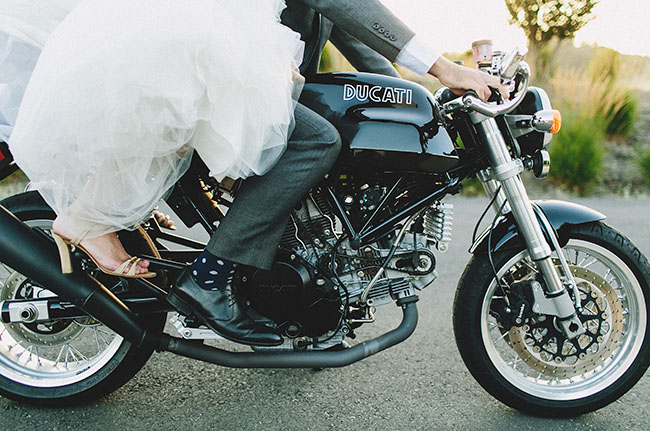 Travel In Style
Boys and their toys eh?! If your fella has a serious love of all things fast and furious, it's only fitting to organise a surprise mode of transport from the ceremony to your reception. Whether it's a Harley Davidson, vintage Cadillac or a super-fast sports car, the look on his face will be priceless! Don't forget to ask your photographer to wait outside the church so every moment and reaction can be captured on camera.
A Boudoir Photo Shoot
Something for just the two of you. A little secret to share. If you are feeling confident, a tasteful and artistic boudoir photo shoot is a great way to escape the stress of planning and indulge in your beauty. Your session can be whatever you want it to be – a bit naughty to break out of your comfort zone or a romantic, sensual collection of images to make you smile. He will remember exactly why it was love at first sight when you originally met.
Whiskey & Cigars
No doubt he will be a bundle of nerves on the morning of your wedding – it is the biggest commitment of his life after all! A signature hip flask filled with his favourite tipple and a selection of top notch cigars are sure to be a hit. His groomsmen will also think you are THE coolest bride ever. Major brownie points to be had with this gift.
A Watch
You can't go wrong with this classical present. Engrave your initials and the date of your wedding for an added sentimental touch. FYI – we are loving Daniel Wellington's dapper watches right now. Understated and stylish – perfect for an old school gentleman.
An Impulsive Honeymoon Activity
This gift will require a bit of sneaky planning, but boy will you enjoy the end result! Embrace the world wide web and research nearby activities at your honeymoon destination. Go wild and book a new experience for you to share as newlyweds. From a helicopter ride over the Grand Canyon, a night at the races in Dubai to achieving a qualified scuba diving certification in Thailand, these are memories you will treasure forever.
Cufflinks
A unique way to quirk up his suit with some personality. This is a great way to introduce subtle flecks of his hobbies and interests to your wedding theme. Whether his passion is dogs, superheroes or work-related, there are some fabulous options online for high-end, quality cufflinks.
Image Credits: Huge Forte Photography via Green Wedding Shoes;