Planning a wedding is a learning curve in itself – and so many things are left unsaid! If you are stressing out about minor details or feeling totally overwhelmed at the thought of pretty much everything, don't fret! Director of Romance at Washingborough Hall, Amy Thorne, is here to give her expert advice and reveal the things nobody tells you about planning a wedding. Panic over ladies.
You Become Obsessed With The Weather
Absolutely true. You will become glued to the weather the month before your wedding and start looking frantically at forecasts. Please don't obsess about this as you can plan everything else for your special day but the weather you simply cannot control!  Ensure you choose a venue that has a beautiful inside space to match its breath-taking surroundings. If you are going down the marquee/festival route, put a weather plan in place and have fun with essentials such as wellies and umbrellas. It should be a relaxed and enjoyable day, so please don't dream of perfect sunshine! It can go the other way and could end up being too hot. At the end of the day 'it will be what will be', so just enjoy and go with it. Whatever the weather, it will make for great photos as long as you are happy and smiling.
You May Not Agree With Your Partner & Family
Take family and friend's thoughts into consideration but remember it is YOUR day and it should reflect you as a couple. If you are having conflicting opinions with your partner, sit down and go over things constructively. If it's down to budget, be realistic. If it's down to your guest list, think of your wedding venue capacity and who you really want there. If it's down to location, make a list of pros and cons. A good brainstorming session will give you a vision of what sort of day you would like. Remember, it is a celebration of the next chapter of your life and this doesn't always mean a lavish affair of 150-200 guests! Small, intimate weddings are equally as beautiful.
It CAN Be Stress-free & Enjoyable
Here's hoping! Be realistic and ensure the main things are in place as early as possible such as your venue, church or civil ceremony, caterer, photographer, florist and entertainment. Get your save the dates sent out, choose your wedding dress (take your time and enjoy) and all the smaller details can come later. It is so exciting gathering inspiration for decor and the finer details, so please don't stress, enjoy it and choose recommended suppliers you can trust. Having a great team on board to assist you is key; they will work together and ensure your wishes come true. It is also advisable that you click with your Wedding Coordinator, venue and photographer from the beginning as they will be spending a lot of time with you (especially on the day itself).
Food Is A Priority
If bad food is served at a wedding, it is the ONE thing everybody is guaranteed to talk about. A great chef at your wedding venue or high-quality caterer is a must. Choose food you enjoy and maybe even something a little wilder that people don't normally have. Most wedding venues excel in certain types of food. Use this to your advantage as they know what they are best at and you want to totally wow your guests leaving a lasting impression.
Don't let guests get hungry either as they will soon turn grumpy. They invented the word Hangry for a reason! If you are having a lunchtime or early afternoon wedding ceremony, I would really recommend having canapes to stop their tummy's rumbling. A glass of fizz or Pimms during the summer will go down a treat.
You CAN Break The Rules
Your wedding doesn't have to be conventional or traditional. It can be exactly how you want it to be. I keep saying it, but it is YOUR day and true friends and family will respect that. You can pretty much have anything you want at a wedding nowadays, it is mainly down to logistics and budget.
– By Amy Thorne, Director of Romance at Washingborough Hall Hotel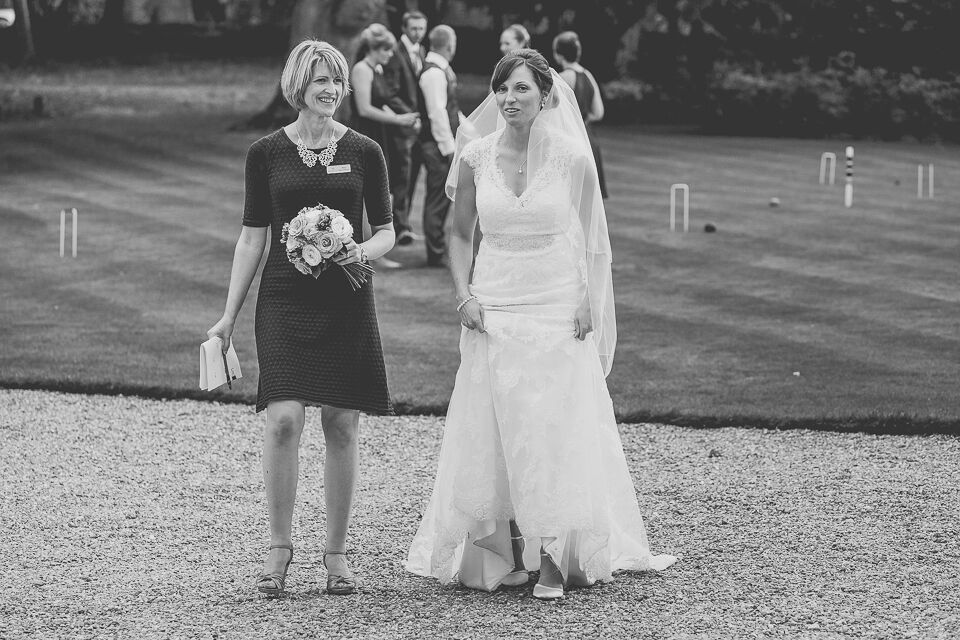 Lincolnshire's most romantic wedding venue, Washingborough Hall Hotel, has its very own Director of Romance, Amy Thorne. Amy works closely with the Operations Director Lucy Herring and the rest of the team. Her background as an award-winning professional Wedding Planner has given her a wealth of experience and creativity. In addition to this Amy is approachable and genuine and her passion for weddings is tangible. She is a real treasure for brides and grooms-to-be during the process of planning the most special day of their lives.
Lucy and Amy – Hotel Owner and Director of Romance will respectively be your big sister, best friend and wedding planner – all rolled into one!! Planning your wedding will be an absolute joy with this pair on hand to give you lots of advice and banish your worries.
Image Credit: Nick Grove Photography; David Lowerson Photography.