It's true what they say; a father is his daughter's first love. Your upcoming wedding day will be a bitter-sweet moment for your dad. He has been present for each milestone throughout your life and you share a special bond, so it's understandable that finally giving his little girl away at the alter will be super emotional.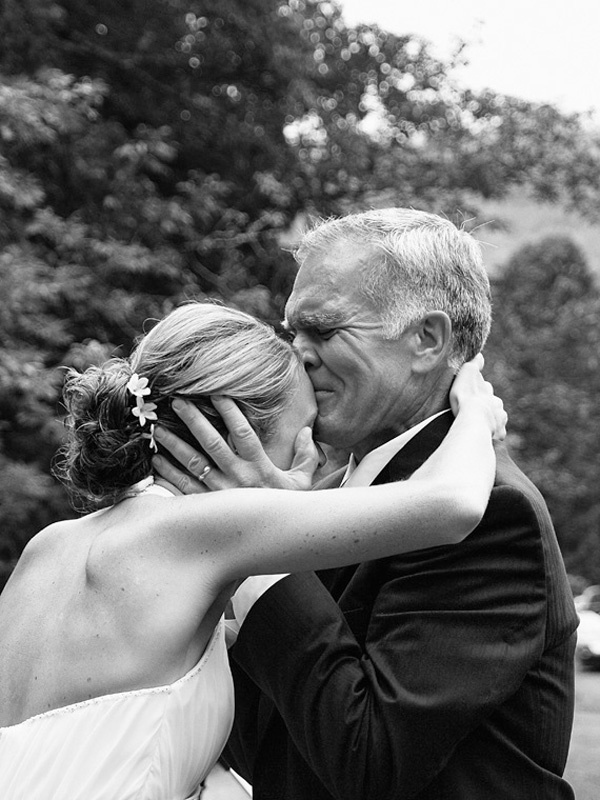 Incorporate Your Father Into Your Dress
This works particularly well if your father wears a uniform as part of his job description. If he served in the Royal Navy or Armed Forces why not take a badge from his uniform and have it stitched over your heart on the inside of your wedding dress. Another sentimental idea is to have a heart shape cut from his favourite shirt with both your initials sewn on to the inside of your gown.
Choose A Special First Dance
Your father daughter dance is a moment that both of you will cherish forever. Pick a song that means something to you both. Maybe it's your favourite song from when you were growing up at home or the lyrics are personal to your relationship. Here is our top pick for that special moment.
Invite Him To Do A Reading
Ask your dad to be part of the ceremony by choosing a reading, poem or prayer that reminds you of your childhood. A passage from your favourite bedtime story as a child will show your dad how much you treasure those memories. If your dad happens to be a music fanatic and plays an instrument, why not ask him to perform at your ceremony? There won't be a dry eye in the chapel!
Take Me To The Chapel
Surprise your dad with a spin to the chapel in his dream car. This will require a bit of planning in the months beforehand to hire a wedding car with a difference. Go all out with a flashy sports car or throwback to his favourite vintage wheels. Go alternative and arrive in style. Pay tribute to you dad's job or hobby. If he's mad about the great outdoors and comes from a farming background, wow your guests by arriving in a tractor!
Spend Time With Him After The Wedding
Plan a fun day out for just the two of you after your wedding. Your dad will really appreciate this and it gives you a chance to catch up on all the news since the big day.
Image Credits: Juliea Whitlock.