When it comes to finding the perfect dress, there is guaranteed to be a lot of searching before you have that 'Cinderella moment'. Jo and Claire from Belle Bridal are here to point you in the right direction and help find the dress of your dreams.
Whether it's designer, an off-the-rack hidden gem or a second-hand discounted gown, these expert tips will ensure your best assets are on show for the most important day of your life.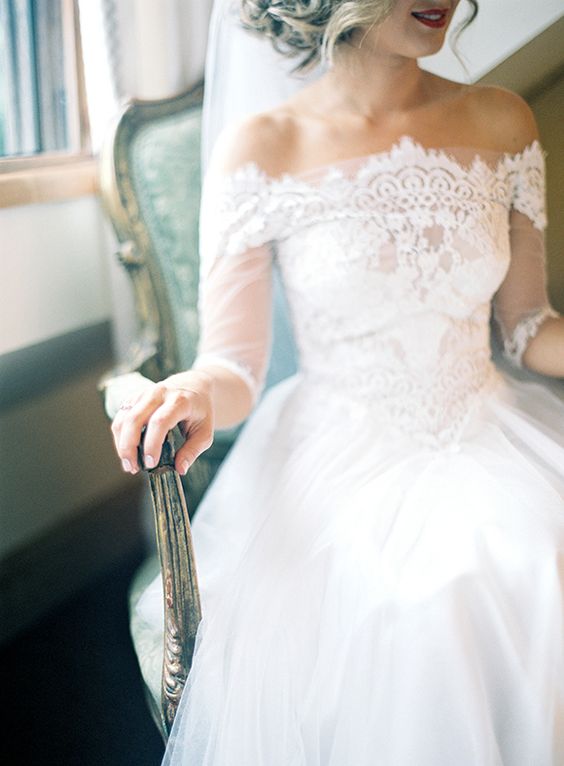 Off-The-Shoulder
This style is super flattering for those with delicate features, it particularly accentuates collarbones and shorter necks. By having a lower neckline, the neck is elongated and so this style will give a shorter neck more length. This cut is also very flattering for pear-shaped women, as it evens out the shoulders and the hips, giving you a curvier, more proportionate silhouette.
This style is particularly elegant when the neckline is made of lace, as it attends directly to the delicate nature of the collarbone and avoids swamping the upper area of your body in thick material.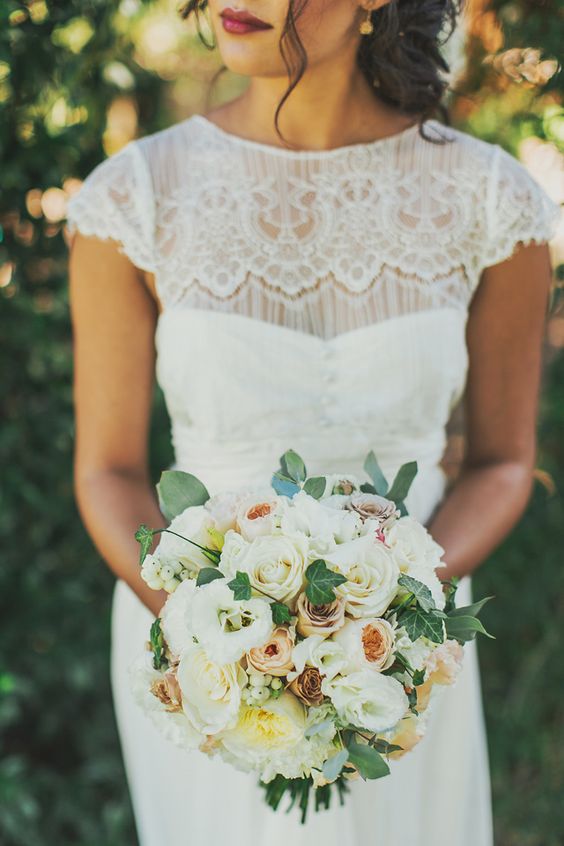 High Neckline
A high neckline can be extremely flattering, but it can also be an absolute disaster. This style gown should be worn by those with a smaller bust and broad shoulders. It should be avoided if you have a larger bust or are conscious of your upper-arm area. However, if you have broad shoulders, a petite chest and more toned arms, this style will look absolutely stunning on you. By choosing either a lace or sheer-based material for the top of your dress, you will also add an elegant touch to your outfit, ensuring that you don't get swallowed up in lots of material.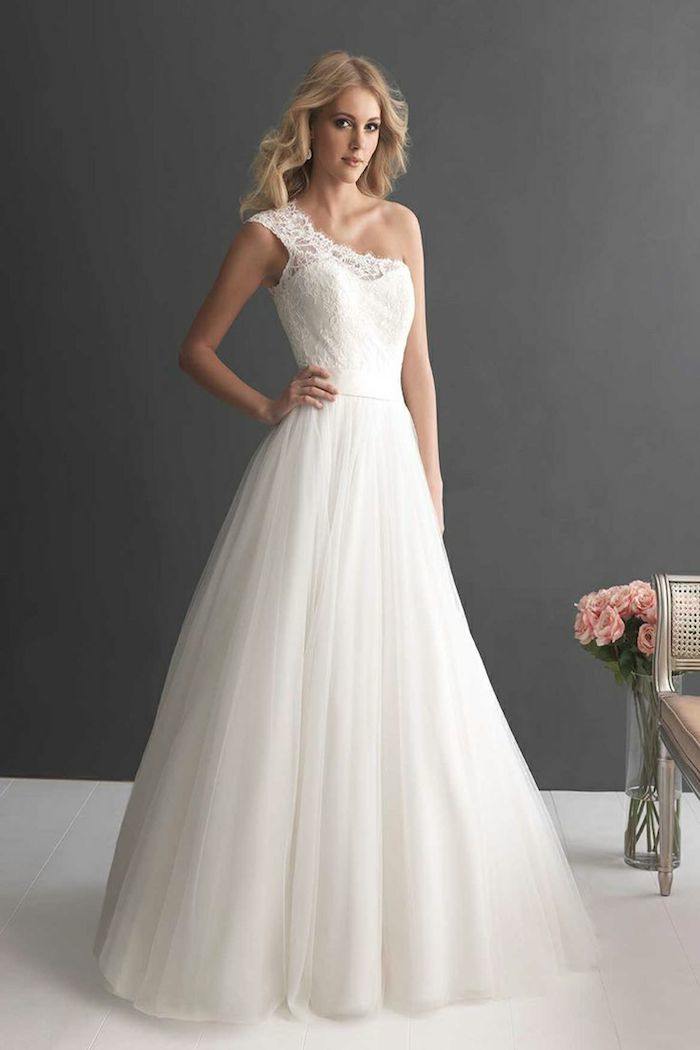 One Shoulder
A slightly more contemporary style of dress, flattering those with narrow shoulders, soft collarbones and longer necks. This dress can accommodate a longer neck as well as a more narrow upper body, giving your shoulders slightly more width and balancing out your frame. A more structured material will accommodate larger busts.
If you are searching for a lighter, more flowing material, this romantic look will best flatter those with a smaller bust. The material will simply hang from those with a larger bust and may add to your frame, loosing the illusion of an hourglass silhouette.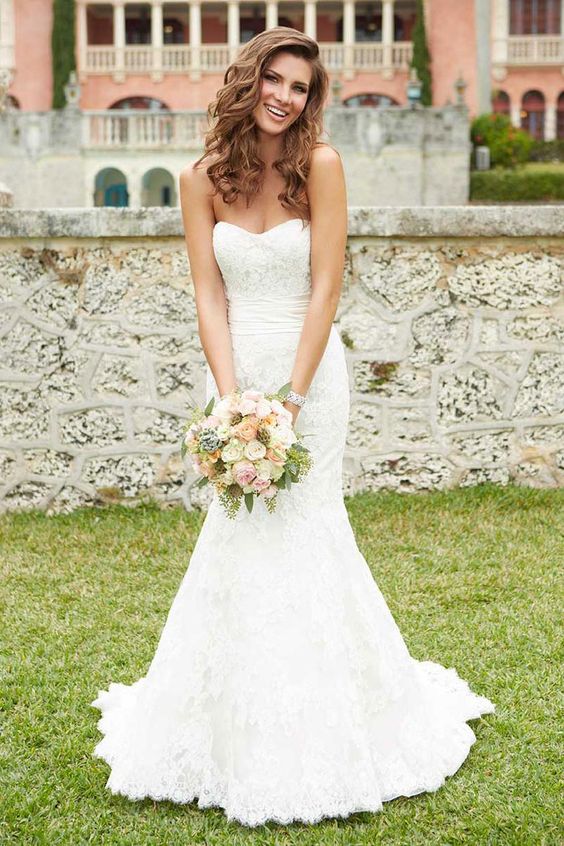 Strapless
A strapless dress suits a variety of different shapes, particularly curvier women who boast an hourglass figure. A strapless style can either be straight across or sweetheart cut at the bust. If you have a smaller bust, you can pull off the straight across cut, but if you have a slightly fuller chest, you're better off with a slight dip in the middle of the neckline.
If you're a plus-size bride, this can also be a great choice for you. Choose a material that pulls you in at the waist and flares out at the bottom, this will accentuate the best parts of your body.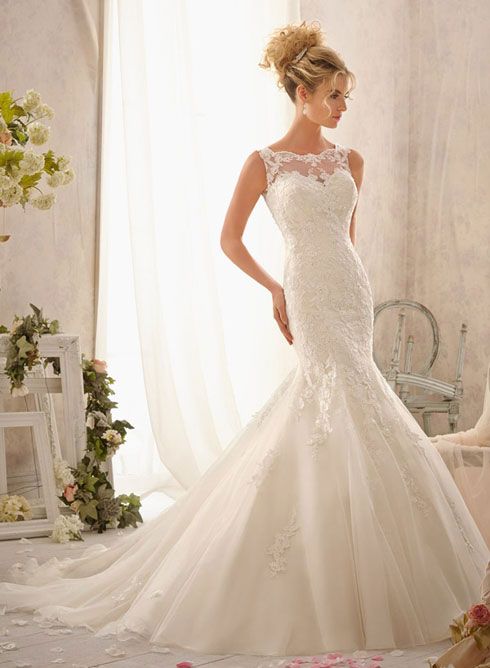 Mermaid Style
The mermaid-style dress is stunning on petite brides. Keep things simple by avoiding frills and bows, as this will add fuss and drown your frame. Mermaid style dresses tend to hug your body in the most flattering places, whilst also adding some extra height with the slight train flowing behind you.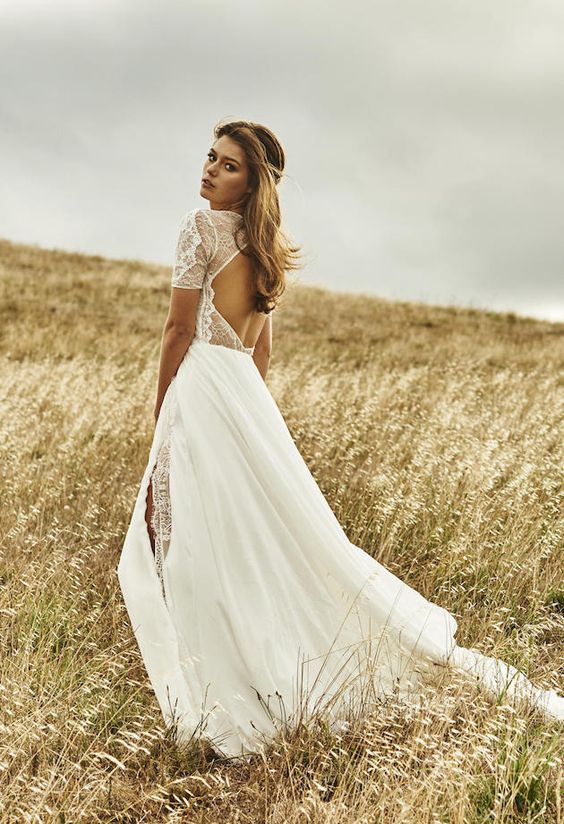 Backless
Backless and intricate detailing suits a variety of shapes. Ultimately, choose a style that makes you feel comfortable and that showcases the best parts of your back. If you have a large bust, this style can be more difficult to pull off, as you may not be able to wear a bra meaning your chest will have less support. If you do choose a backless style, keep the rest of your gown simple and elegant. This should definitely be the stand-out feature.
Author Bio
Jo Cowan and Claire Chapman have been running their company, Belle Bridal, for the past six years. Belle Bridal is a family ­run business, which aims to deliver the highest standard of service, and make you feel like you've been welcomed into Jo and Claire's own home. Their years of professional expertise means that brides can walk away with their dream wedding gown. They specialise in sample dresses, so you can get that designer gown, at a fraction of the price, and without ordering it months in advance.
Image Credits: 1) Nic Professional Photographer; 2) Off-shoulder – Byron Loves Fawn via Magnolia Rouge; 3) High neckline – Oh Fleur; 4) One Shoulder – featured dress via Bridal Guide; 5) Strapless via Go Prom Dress; 6) Mermaid gown – Mori Lee;