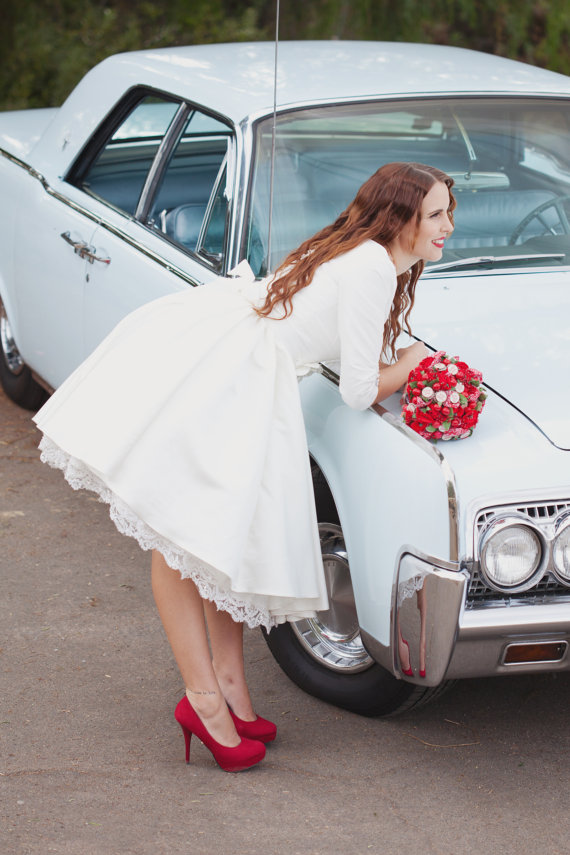 Spring is officially here (although it may not feel like it quite yet…). Soon enough we women will be hoping to ditch the 100 denier black tights and winter woolies for lighter (and more fashionable) clothing! So would you ditch the traditional full length gown for a shorter style on your wedding day?
The long white dress is a tradition here in Ireland and abroad, but why limit yourself. A short wedding dress can and will work! Many brides feel swamped in a long dress whether it be because of their shape and size. There is a short style dress to suit every body shape.Tea length wedding dresses look fabulous on, especially if you are going for the 50s look!
If this is a particular look you would be interested in trying, keep an eye out in your local vintage store. Speak with the sales assistant and tell her what you are looking for. Some of them may even stock vintage wedding dresses or she may offer to keep an eye out for you when she is sourcing clothing.Wearing a short wedding dress means you are not limited to buying from a bridal boutique. You may even find the dream dress in a high street store, which should result in a substantial difference in your wedding budget.
If you do decide to wear a short dress, wear coloured wedding shoes! What better an excuse to buy those jewel coloured heels you have had your eye on for the last number of months… You get to show them off! Coloured wedding shoes look amazing teamed with a short style dress as they are a great way to add a pop of colour especially in your wedding photographs! Don't take my word for it. Try it yourself!
{Image of tea length wedding dress by thepeppermintpretty on Etsy}