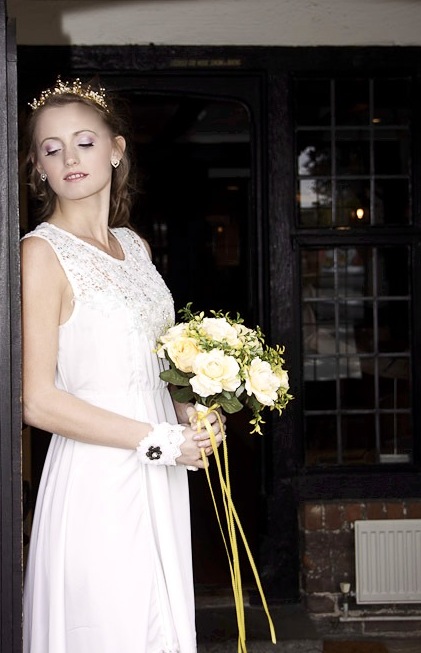 The morning of your wedding will be a busy time for all. Although you will have everything ready and in order (or so we hope!) there are always a few loose ends to be tied together. You as the bride should share any little tasks like this amongst your bridesmaids allowing you to relax your nerves. You will most likely spend your morning having your hair and make up done. Having a professional make up artist come to your home on the morning of the wedding is a great idea as you will feel more at ease and avoid any rushing in and our of your local beauty salon! We took a few moments to chat with Ainsley of Make Up by Ainsley about all things make up related especially for you, the bride!
1. Hi Ainsley, a bride needs to feel her most beautiful on her wedding day. How do you help her achieve this?
When I arrive on the wedding day the bride should already feel comfortable with me as having spent a good 2 hours with her around 6 weeks before her special day. This will mean she is confident in the look we agreed on and therefore will feel at her most beautiful with flawless skin and pick out areas such as eyes and lips just to enhance the brides natural beauty.
2. What brought you to become a professional make-up artist?
I was a pro singer/dancer so was in love with make up throughout my whole life since I was little and on stage and this was anatural progression from the industry I was in.
3. What one things should brides be doing to prepare their skin for the big day?
Make sure they moisturise daily especially ladies that suffer from dry skin. I would also recommend exfoliating your face once a week.
4. Tan or no tan?
I personally think no tan for your wedding day as natural as possible works best in my view and the tan could come off on your dream dress.
5. What is your favourite bridal look?
I think the classic look with flawless skin, a nice natural maybe a slight pinkish tone lip colour and enhance the eyes slightly with natural colours, eye lashes (maybe even add a few individual lashes to give them more thickness) and a eye liner.
6. What should every bride have in her wedding bag?
The lipstick they are wearing on the day.
7. Have you ever been called to correct a wedding make-up disaster?
Yes a few times from unhappy brides but we have made them feel happy and confident within no time at all. It's all about listening to what the bride wants!
8. If not a make-up artist, you would have become..?
Ooh that's a hard one I love working on photo shoots so maybe a photographer would of been another great job to have but love my job so wouldn't change it for the world.
9. What's your favourite thing to eat?
Cake who doesn't like cake!
Make up By Ainsley

is a professional make up artist who provides a first class service from the first phone call or email right up until you say I do! Ainsley prides herself on being very understanding and listening to the brides needs and wants from her make up artist. She is with you to help you relax and feel like a princess on your wedding day.Always happy to answer any questions you may have or provide you with a non obligation quotation. Let Ainsley enhance your beauty and make you feel amazing on one of the happiest days of your life.