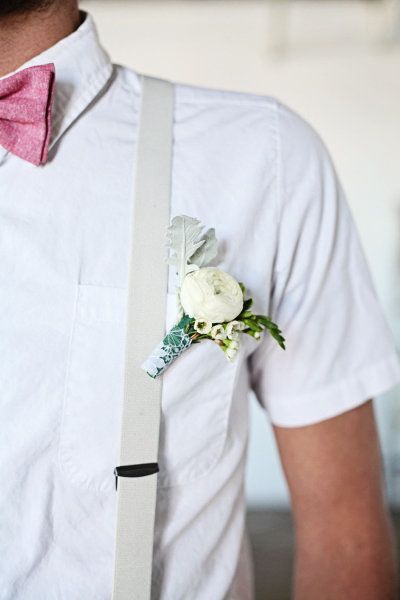 The wedding day is one of the most important and celebrated occasions in most people's lives and as far as possible everything has to be right. That is why brides spend thousands to get their perfect dress, to look the most beautiful they ever have. For a groom, the emphasis is to look smart with special attention being paid to wedding suits.
To decide on the perfect suit for a groom, it's important to take certain factors into consideration. Firstly, whatever suit is bought, it has to fit with the general theme of the wedding. A formal evening affair might entail going the extra mile and wearing a tux, whilst an outside summertime wedding will require a lighter and more casual suit. There's nothing worse than outshining the bride for all the wrong reasons, particularly with a suit entirely inappropriate for the wedding's theme and setting. In addition, whilst no groom should ever see his loved one's dress before the big event, it is important to coordinate. Ensuring both members of the couple are on the same wavelength when it comes to styling is vital.
Many men hate trying on suits, but it's an essential part of getting the perfect wedding outfit. Suits conform to a variety of body shapes, and to look his best, a groom must choose an outfit that complements his body type. A fitted suit with a nipped in waist is ideal for larger men who want a leaner shape, whilst a double-breasted suit is perfect for tall, thin frames that need some broadening. Meanwhile, if grooms are short, then a two or three button jacket is best for creating the illusion of height.
In addition to choosing the right suit type, it's also important to make sure the wedding outfit fits perfectly. Many off-the-rack suits won't look right no matter their quality – if they don't fit correctly they are a disaster. Jacket sleeves should end at the wrist bone, whilst a collar should lay flat without bulges or gaps.
After picking out an outfit from one of the many available from retailers, such as www.suitsmen.co.uk, it's important to distinguish the look and add a bit of personality. Even the most ordinary of suits can make quite a statement with the addition of a few accessories.
Adding a buttonhole or bow tie to an outfit instantly adds character and helps draw together various wedding themes. It's always a good idea to bring a personal spark to outfits. This can be done by adding a splash of someone's favourite colour, or by using lapel pins and cufflinks that might be themed to a groom's passions and hobbies. For example, a movie fan might like some Star Wars cufflinks, whilst a garden lover might like to have a particularly impressive buttonhole.
Choosing the right suit for a groom is a vital part of all wedding celebrations. By picking out a wedding suit that complements the groom's body shape, and by adding a few quirks of personality, a couples' wedding outfit will stun all in attendance.
Image via Style Me Pretty via Kat Willson Photography