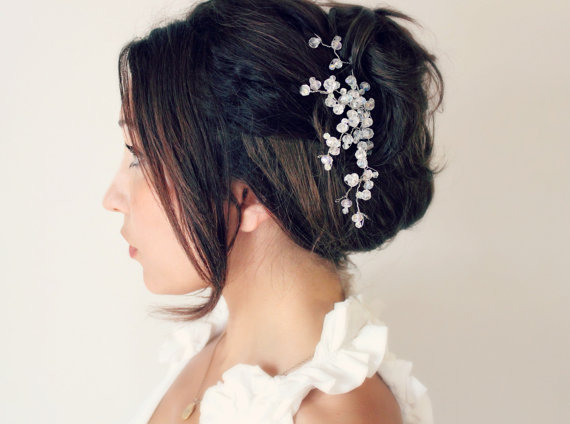 Only after you have purchased your wedding dress should you begin deciding what way to style your wedding hair. Your hairstyle should compliment your wedding dress. The dress plays a big part in deciding what style is a right choice for you. Some looks will suit certain dresses while others may not. For example a neat classic up-style might not suit a boho style dress as much as a relaxed more casual hairstyle might.
Your wedding hairstyle should not take away from the overall look of your dress. If you are wearing a heavily embellished dress or if it features statement back detail it might be best of wear your hair up allowing you to showcasing the dress's features. On the other hand if you are wearing a strapless dress, you should consider leaving your hair down, which will stop your shoulders or arms from looking bare.
That's not to say you can't wear your hair up with a strapless wedding dress, perhaps wear a large necklace if you are going for this look. They are becoming more popular with brides and a great way to make your wedding dress even more stylish!A figure hugging mermaid dress will be complimented by a voluminous up-do perhaps consisting of curls, while a simple clean cut dress would be suited better to a French twist or simple half up half down style.
In saying all this, there is no right or wrong way to wear your hair on your wedding day, or match your hairstyle to your wedding dress. If you want to dye your hair bright pink especially for your wedding day, I say go for it! (after giving it a lot of thought of course…). This is your day and the only way you are going to enjoy yourself the most you possible can is if you are happy with the choices you have made in making it all come together.
Once you have decided on whether you'll wear your wedding hair up or down, you can move onto thinking about wedding veils and accessories! It does all come together at some stage… I promise!
{image of bridal hairpiece by deLoop on Etsy}