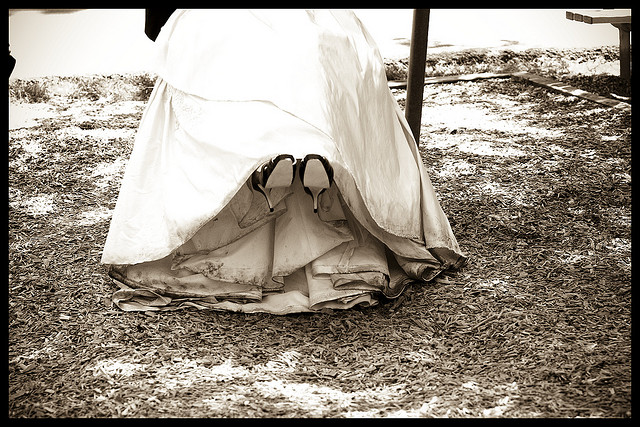 After the celebrations of the wedding are over and you are busy sending out thank you cards and finalising payments with certain wedding suppliers, have you ever wondered what comes next for your wedding dress? Do you plan to hide it away in your wardrobe, put it up for sale or perhaps even trash it for some post wedding pics!
The choice is yours, many of you may like the idea of keeping your wedding dress for years to come. Perhaps a daughter of yours might decide to wear it on her wedding day. You know what they say in the world of fashion, what goes around comes back around! Most 'new' looks have been around before. The right choice for you may be to re-sell your dress as wedding dresses are not cheap and selling your wedding dress can be a way of finalising remaining bills from the wedding.
Another option is that of trashing your dress. This involves wedding photography very different to those elegant photos taken on your wedding day. The setting and theme of the photographs can be anything you set your mind to! Shoots on the beach are quite popular, with the bride splashing and having fun in her white gown. For the more adventurous I have seen some amazing images taken during an underwater shoot! If you do decide to trash your dress the main thing to remember is to create photographs which say and mean something to you and your husband. I'm not sure if I could put my own dress through such torture! How about you? Let's hope the damage is not more than what a trip to the dry cleaners can't fix!
What you choose to do with your wedding dress in the aftermath of the wedding, make sure you have thought long and hard about it. These memories are ones you will hold on to forever. There isn't another dress you will come across in your lifetime that will make you feel as beautiful as this one did on your wedding day.
{Image of wedding dress by Samantha Lauren Photographie}