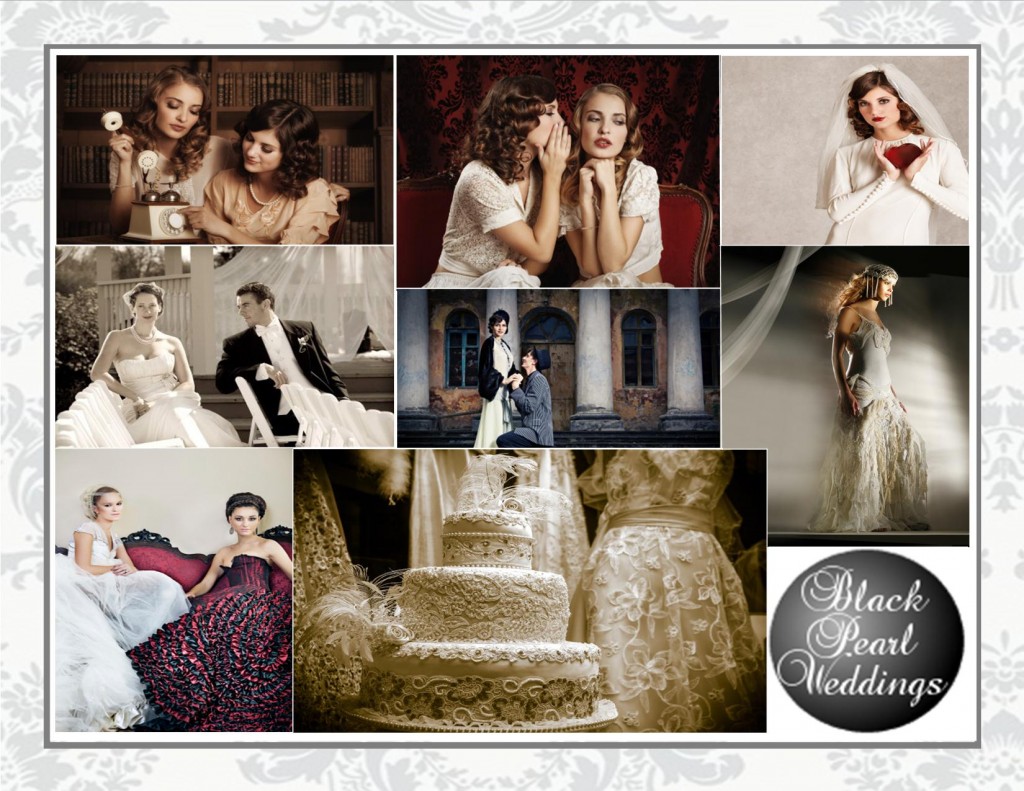 Choosing your wedding planner isn't an easy task. Whether you are looking for a planner to help you with planning your entire wedding day or just to tie up the finishing touches, you need someone you trust. I took a few moments of time with Kelle of Black Pearl Weddings of London, as the lady behind his boutique wedding planning service Kelly is "obviously passionate about weddings and haute couture. I like to consider myself gregarious, determined and conscientious, with an eye for detail and a demand to achieve only the best results for my clients". What to find out more about herself and the team at Black Pearl Weddings? Continue reading…
1. In what way can Black Pearl Weddings help a wedding couple plan their ideal day?
Black Pearl Weddings can offer support and assistance with every single detail of that perfect day. By consulting with the prospective bride and groom, we understand exactly what they want, and create a structured plan of action, to ensure that they source the very finest venues, suppliers, music, and wedding attire to match any desired theme, all within their budget. We will even help with planning the hen/stag events or honeymoon!
2. What three words would describe a wedding planned by Black Pearl Weddings?
Elegant, Exquisite, Exclusive.
3. How long do you work with the couples before their wedding day?
That depends on what a couple want in terms of support and assistance. It could vary from being called at the last minute to ensure nothing goes awry, or simply to give on the day coordination, or it could be from the point that they decide upon marriage. We could be involved for anything from eighteen months, through to just a couple of days prior to the ceremony.
4. What do you think the first thing a bride and groom should do upon getting engaged?
Set a realistic date to enable them to comprehensively calculate their wedding budget, and comfortably plan and schedule everything in time to avoid any last minute stress. This doesn't necessarily mean setting an exact date, but more a rough idea of when you want to marry, for example, a couple engaged in the New Year may decide they want to wed in summertime 2013. When an engagement is officially announced, the first question posed to the prospective couple is "When is the big day?", so having a rough idea of when it will be held gives an air of excitement.
5. Wedding couples are always looking for ways to save on their weddings, how can you help with this?
By working from their estimated budget we calculate exactly what they can realistically achieve. Always mindful of this budget, we would maximize the funds by sourcing the very best services, for the most competitive prices. We negotiate on behalf of our clients, to keep costs well within their estimated budget. We can give the couple helpful hints and advice, all of which will bring the associated costs down. For one example, we would look at the biggest expense of the day – the reception, and how this could be coordinated to be as reasonably priced as possible without losing that sophisticated feel. This could be achieved by considering marrying outside the peak-seasons, and try to plan the wedding to take place on a mid-week day or avoid a Saturday.
6. Tell us a little bit about the team at Black Pearl Weddings?
We are a small, dedicated and intimate team, with a shared vision – Specializing in wedding planning and consultancy only; all of our efforts are focused on creating truly spectacular matrimonial ceremonies. Black Pearl Weddings have a flare for design and couture elegance, and are passionate about our creations. We aren't willing to settle for less than the very best.
7. What do you enjoy doing in your spare time?
I'm a slave to exercise and walking is one of my favourite pastimes. I also enjoy a spot of online shopping, Sunday brunch with friends, and of course, staying au fait with all wedding and cultural trends around the world.
8. How did you become involved in the wedding planning business?
I've always had a love for the wedding tradition, and was thoroughly inspired by the Royal Weddings, which led to me starting by coordinating a friend's wedding, and realizing this was
my forte.
9. What do you think will be one of the most popular wedding trends for 2013?
I think that 2013 will yield a trend in returning to the elegant style of older fashioned wedding ceremonies that have been more overlooked in recent times, coupled up with brides tending to veer away from the traditional white dresses, in favour of a more colourful garment. I have seen the inclination toward mint green grow in popularity, and also accessories that boast sophisticated styles from years gone by, for example art deco.
Black Pearl Weddings of London is a superior boutique wedding planning and consultancy service. At Black Pearl Weddings we provide an exquisite service, inimitable in its level of style and added mystique, similar to the Black Pearl itself, the rarest gem from the sea, long sought after by distinguished clientele.  Through consultation, we draw inspiration from every couples individual style and tastes, and fully coordinate a bespoke package to ensure every couple can have the most elegant and couture wedding, which will be beautiful, unique and remembered forever.