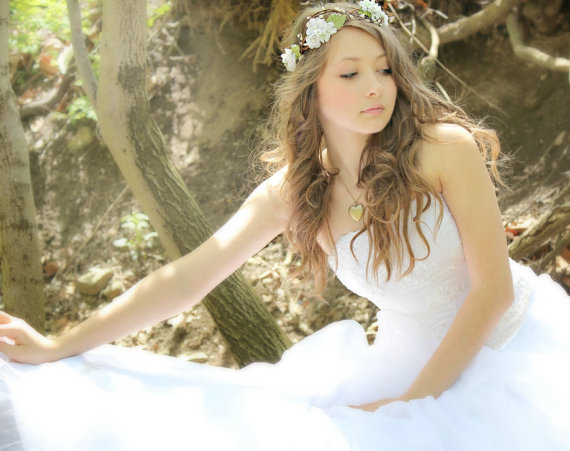 There are no shortage of wedding hairstyles to choose from, which sometimes actually makes it a difficult decision to make! You should only decide what hairstyle you will wear after you have the dress. Different hairstyles will suit certain style dresses. If you have decided to wear your hair down you will have narrowed down some of your choices, now to decided whether to wear a curly or short style?
Firstly think about your wedding dress. What will compliment it's shape and look? If you are wearing a boho style dress a curly relaxed style will work really well. A floral headband or even a braid will also compliment this look. If your wedding dress is one shouldered a half up half down look, whether curly or straight, will look great and balance this asymmetrical look.
You should also decide if you are going to wear a wedding veil or headpiece before you choose your hairstyle. Some wedding veils look best teamed with straight hair as the veil itself will add enough volume to your look. If you are thinking you would like to have your hair curled it doesn't mean you can't wear a veil but perhaps consider a more simple style. Bridal headpieces are becoming a great hit amongst brides and can be worn with all wedding hairstyles.
Don't be afraid to think outside the box when it come to your wedding day hair. Gather a few bridal magazines and cut out styles you like. You should bring these along to your hair trial (I would advise every bride to carry one out!) and have your hairdresser see what she can come up with based on the styles. It might also be a good idea for you to bring your dress if you really want to get an idea of the look!
{Image of flower grown by deLoop on Etsy}