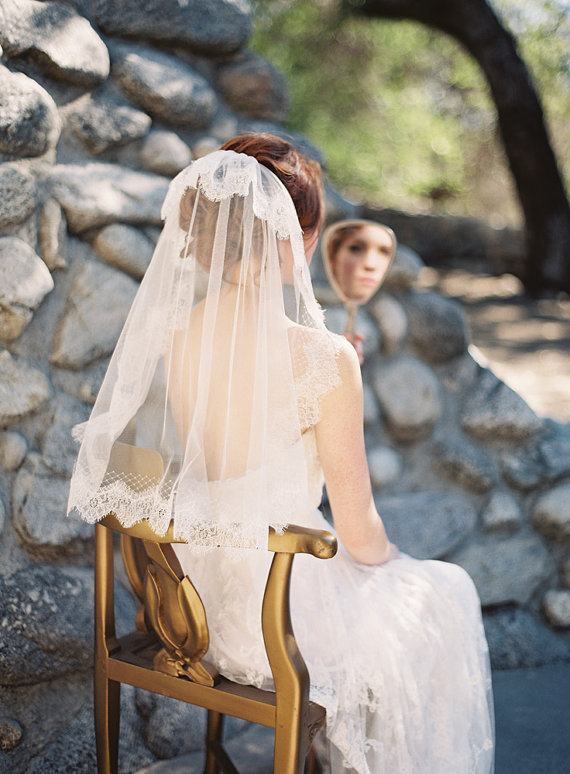 The wedding dress has been bought! It flatters your every curve and makes you feel like a princess. Wedding shoes and accessories may be next on your shopping list but will you also wear a wedding veil?
It is traditional to walk down the aisle wearing a blusher veil which is lifted by your father upon reaching the end of the altar, the maid of honour before the vows are said, or the groom after the vows have been said. If you decide you don't like the idea of the blusher veil you can choose to walk down the aisle with your veil away from your face. It is not essential to wear a wedding veil with your dress. You shouldn't feel as though you will miss out if you choose not to.
Your wedding veil, like all of your other wedding accessories, should compliment your wedding dress. Be certain when purchasing your veil that it does not take away or hide any key features of your dress. The veil should end either above or below any embellishment on your dress so that it can still be seen. If your dress features show-stopping back detail it may be best to choose a short birdcage style veil or a long sheer veil which you can see through.
Your body shape should also come into the picture when choosing your style wedding veil. Veils ending at the waist, shoulder or elbow are most flattering to pear shaped women as this focuses on their smallest parts rather than their curvy lower half. Veils to the waist and above also suit petite women, while tall women can carry off the length of longer styles.
Another detail to take into consideration is the hairstyle you are going to wear on the day. Many brides go for an upstyle which is a great choice if you are going to wear a veil, as almost any style will suit this hairstyle. If you are planning on wearing your hair down it may be best to choose a shorter, lightweight simple design.
There are many other stunning bridal hair accessories to choose from if you decide a veil is not for you! The important thing is that you are feel your most beautiful when dressed o the morning of your wedding day!
{Image of wedding veil by sibodesigns on Etsy}